Tue 30 May 2023 8:40 am - Jerusalem Time
German Championship: Dortmund shares declined in the stock market after losing the title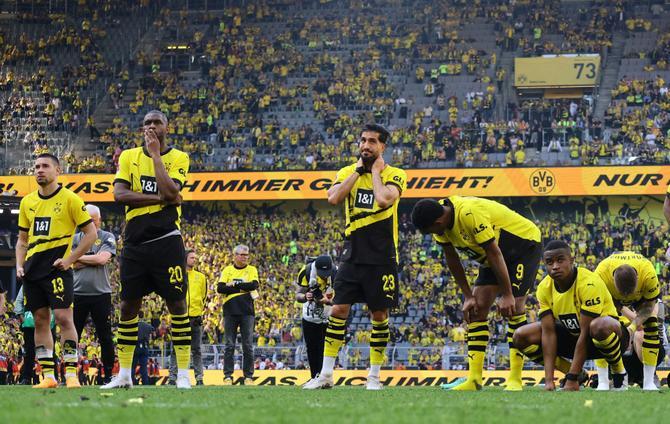 Shares of German football club Borussia Dortmund fell nearly 30 percent on the Frankfurt Stock Exchange, two days after the Ruhr club lost the league title by goal difference from Bayern Munich.

The club lost 29.7 percent of its shares to 4.14 euros, far from the main DAX index, which rose by 0.20 percent.

Dortmund, the Bundesliga leader after 33 stages, two points behind Munich, had to win in order to win the ninth title in its history and the first since 2012 and put an end to the dominance of the Bavarian club in the past ten seasons.

But in a dramatic "final" during the last 34 stage on Saturday, Dortmund tied at home against Mainz 2-2, while Bayern defeated Cologne 2-1 in the last minutes, to regain first place on goal difference and win the title for the eleventh season in a row.

Borussia Dortmund's share fell sharply, after rising 32 percent last week to 5.93 euros, its highest level since the fall of 2021.

And after Bayern lost its home match against Leipzig 1-3 a week ago, investors bet on Dortmund's dedication to its home game against Mainz thanks to the support of its fans.

However, under tremendous pressure, coach Edin Terzic's players failed to come up with the three points, to settle for one point that prevented the expected coronation.

Borussia Dortmund was listed on the stock exchange in 2000 and is the only club registered in Germany.
Tags