Tue 30 May 2023 8:39 am - Jerusalem Time
Egyptian Championship: A difficult victory for Al-Ahly, and Pyramids is chasing it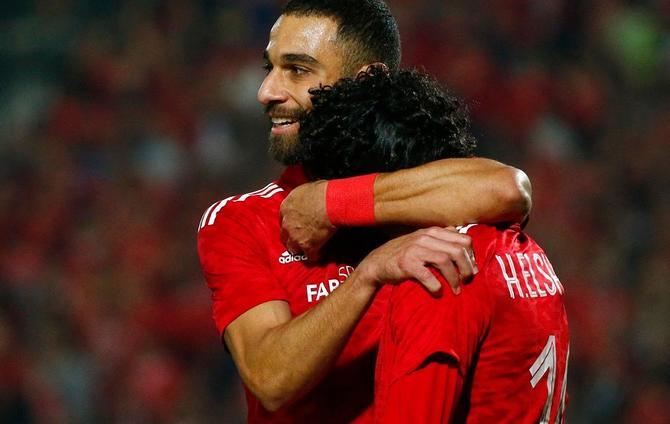 Al-Ahly snatched a difficult victory against its guest, Ceramica Cleopatra, 1-0, on Monday, at Cairo International Stadium, in the postponed meeting between them from the twenty-seventh stage of the Egyptian Football League.

Al-Ahly's victory goal was scored by Hussein Al-Shahat (57), so that Al-Qari achieved its sixth successive victory, raising its score to 62 points in first place, and it has four postponed matches.

While Ceramica received the second loss in a row, led by its new coach, Helmy Tolan, succeeding Tunisian Moein Al-Shaabani, who moved to train Esperance de Tunis, and its balance frozen at 31 points in twelfth place.

A technically average first half, most of the play was confined to the midfield with the two teams exchanging control and possession, and offensive attempts by Al-Ahly players lacked effectiveness and danger, with the exception of a sure goal opportunity for Al-Ahly after Hussein Al-Shahat penetrated the depth of Ceramica's defense and passed to Mahmoud Abdel Moneim "Kahraba" inside the penalty area in a confrontation The goal, but he strangely hit the crossbar of Muhammad Bassam's goal (24).

Salah Mohsen almost put Ceramic in the lead after he received a through pass from Mido Jaber behind Al-Ahly's defense. He singled out and tried to shoot the ball over goalkeeper Mustafa Schubert, but the latter managed to block it (51).

Al-Ahly players translated their control and attacking pressure with the goal of winning from a pass by Mahmoud Metwally behind the Ceramica defense, so that the ball reached Shahat, Rawag Ahmed Hani, and he fired into the net to the right of Bassam.

Mostafa Schubert continued to shine, saving his own goal from the equalizing goal for the guests, by blocking Mohamed Tony's shot from inside the penalty area (90 + 3), and South African Percy Tau missed the opportunity for a second goal for the owners of the land after receiving a pass from substitute Mohamed Sharif singled out and strangely hit the crossbar (90 + 5). ), and Tao returned with another shot from inside the penalty area, which hit the crossbar (90 + 6).

Pyramids continued to chase Al-Ahly on top with a difficult victory against its host, Al-Ittihad of Alexandria, 2-1, at the Alexandria Stadium, in a postponed match from the same stage.

The two goals of the Pyramids victory were scored by Ibrahim Adel (19) and South African Fagri Lakai (71), after Adel for the Alexandrian Federation, Ammar Hamdi (22).

Pyramids achieved its sixth successive victory, raising its score to 58 points in second place, while Al-Ittihad of Alexandria received its third consecutive and twelfth loss this season, and its balance froze at 40 points in eighth place.
Tags