Thu 01 Jun 2023 9:00 am - Jerusalem Time
Egyptian Championship: Ismaily snatches a fatal draw from El Mokawloon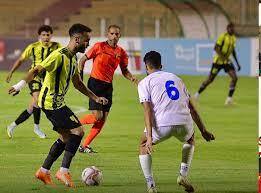 Al-Ismaily snatched a fatal draw from its host, Al-Mokawloon Al-Arab, 2-2, on Wednesday, in the opening of the thirtieth stage of the Egyptian Football League.

Omar Fathi "Saviola" (17) and Nigerian John Okoli scored for Al-Mokawloon (79 from a penalty kick), while the Tunisian Ismaili goals were scored by Firas Shawat (42) and Muhammad Al-Shami (90 + 19).

The match stopped for 18 minutes because the Ismaili players and their coaching staff objected to the penalty kick for the contractors, with a threat to withdraw, before the club's board members intervened and the players returned to complete the match.

With this tie, the Arab Contractors raised its score to 42 points in fifth place, while Ismaili raised its score to 33 points in twelfth place.

On the other hand, Al-Ahly Bank continued its victories for the third match in a row, with a wide victory over its internal guest, 3-1, at Cairo International Stadium.

The National Bank scored the hat-trick Mahmoud Qaoud (22) and Osama Faisal (32 and 61), and the interior goal was scored by Samir Fikry (56 from a penalty kick).

The National Bank raised its balance to 34 points, which it submitted to the eleventh place, while the balance of the Ministry of Interior froze at 28 points in the sixteenth place.
Tags