Sun 28 May 2023 10:40 am - Jerusalem Time
French Championship: Saint-Germain clinches the record 11th title and Lens in the Champions League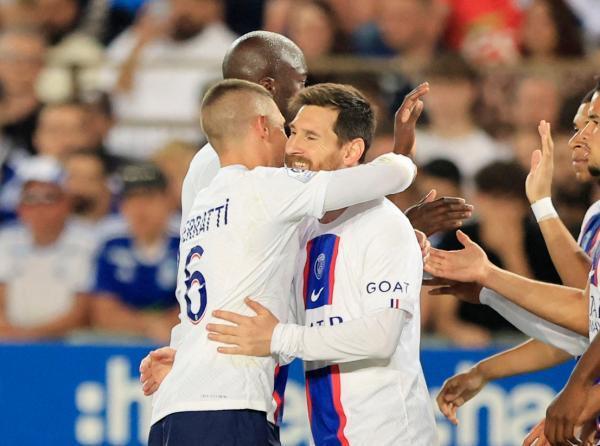 Paris Saint-Germain ensured that it would retain its title as champion of the French Football League, by drawing 1-1 with its host Strasbourg, Saturday, in the thirty-seventh and penultimate stage.

Paris Saint-Germain was the first to score through its Argentine star, Lionel Messi, after a pass from Kylian Mbappe (59), raising his score to 16 goals this season in the league, and the substitute, former Parisian striker Kevin Gameiro, equalized (79).

It is the eleventh title for the capital team, Vanfred, with the record number of titles that it shared with Saint-Etienne.

Paris Saint-Germain needed a draw to secure the title and was on its way to continuing its revival and achieving its fourth successive victory had it not been for Gameiro's goal in the last minutes, which ensured his team's survival in the first division.

It is the ninth title for Saint-Germain in "League 1" in the last 11 years.

Messi scored the 496th goal in the five major tournaments, so he singled out the record that he shared with Portuguese Cristiano Ronaldo, who moved earlier this year to the Saudi victory.

Saint-Germain coach Christophe Galtier commented, "I am very happy that we are champions of France, it is the eleventh title, it is historic."

The coach, who won his second title in the last three years after leading Lille to the title in the 2020-2021 season, added: "The coronation was not easy in light of fierce competition that exceeded 80 points, specifically with Lens. There were difficult moments and a lot of criticism, but we were distinguished by our calmness and knew how to deal with them." How do we win the title?

Paris Saint-Germain strengthened its position in the lead with 85 points, four points ahead of its direct chaser Lens, who beat its guest Ajaccio by three clean goals, which were scored by Colombian Dever Machado (16), Adrian Thomason (22), and Belgian Luis Obenda (34 from a penalty kick), raising his tally to 20. goal this season.

Saint-Germain played the match in the absence of more than one key player for various reasons, led by Brazilian captain Marquinhos and his compatriot Neymar, Spaniard Fabian Royce and Portuguese Nuno Mendes due to injury and Moroccan Ashraf Hakimi due to suspension.

And Senegalese Habib Diallo almost did it when he took advantage of a wrong ball from defender Il Shadel Baciapo to his Italian goalkeeper, Gianluigi Donnarumma, so he snatched it and played it crossly, and you did not find anyone watching it inside the empty goal (15).

Donnarumma saved his goal by deflecting Diallo's powerful shot from inside the area into a corner kick that did not bear fruit (22).
The Belgian goalkeeper of Strasbourg, Matz Sils, responded by blocking a shot "on the fly" by the Portuguese Renato Sanchez from the penalty spot, after a corner kick that Messi pushed for (29).

Diallo continued his brilliance and hit a powerful ball with his right from outside the area, which bounced off the left post (38).

And Messi tried his luck with a direct free kick from outside the area, which passed next to the right post (42).

Messi succeeded in opening the scoring when he received a ball from Mbappe inside the area, so he prepared it for himself and hit it with his left from close range into the left corner of goalkeeper Siles (59).

Gameiro equalized, taking advantage of a rebound from Donnarumma, after a powerful shot by Morgan Sanson from inside the area, and he followed it into the goal (79).

Mbappe almost returned the lead to Saint-Germain alone, but goalkeeper Sils pushed the ball away at an appropriate time (85).

Lens secured second place and its ticket to the Champions League competition for the first time since the 2002-2003 season, after it strengthened the runner-up position by eight points against Marseille, who lost to its guest Brest with a goal by Congolese Democratic Chancel Mbemba (75) against two goals by Hugo Maneti (57) and Mahdi Kamara ( 81).

Marseille will play the knockout stages of the prestigious continental competition.

Lille revived its hopes of securing a continental ticket by defeating its guest Nantes 2-1, taking advantage of Monaco's loss to Rennes 0-2.
Lille turned the tables on Nantes, turning it behind with a goal by Quentin Merlin (17), to win a double for his Canadian international striker, Jonathan David, from two penalties in the 48th and 88th minutes, raising his tally to 24 goals, in third place on the scorers list.

Lille snatched the fourth place that qualifies for the European League competition "Europa League" next season from Monaco, after raising its score to 65 points, on goal difference, in front of the Emirate team, which fell to sixth place on goal difference behind Rennes, who finished fifth, qualifying for the Conference League competition.

Croatian Lovro Mayer (52) and Algerian-born Amine Guerre (73) scored Rennes' goals.

Lyon honored its guest, Reims, with three clean goals, which were scored by Ivorian Emmanuel Agbado (2 fouls in his team's goal) and veteran captain Alexandre Lacazette (9), raising his score to 27 goals in second place on the scorers list, one goal behind Paris Saint-Germain striker Kylian Mbappe, the leader. and Maxence Cacré (82).

Agbado was sent off in the 54th minute.

Montpellier lost its lead over Nice, with two goals for Tigi, and Savanier scored (7 and 17 from a penalty kick), and lost by three turns, scored by Englishman Ross Barclay (53) and Gaetan Laborde (67 and 79).

And Auxerre failed to take advantage of the loss of Nantes to decide its survival in the first division, by falling into the trap of hostility in front of its host, Toulouse, 1-1.
Auxerre was the first to score through Ryan Rafeloson from Madagascar (24), but Moroccan international Zakaria Abu Khalal equalized with a header from close range (44).

Auxerre remained in the sixteenth place, with 35 points, two points ahead of Nantes, the seventeenth.

The last stage will be decisive for the two teams in order to avoid joining the trio of Angers, Ajaccio and Troyes to the second degree.

Nantes will play a relatively easy match against its guest Angers, while Auxerre will play a difficult test at home against Lens.
Clermont-Ferrand defeated Lorient with two clean goals scored by Tunisian Seifeddine Khaoui (44) and Belgian Maximiliano Couvrier (74), and Angers over Troyes with two goals by Algerian Haimad Abdali (38) and Lilian Rao-Lissoua (90) against a goal by Xavier Chavalran (13).
Tags