Thu 01 Jun 2023 8:59 am - Jerusalem Time
Saudi Championship: A festive victory for the title for Al-Ittihad and Al-Adalah bid farewell to the lights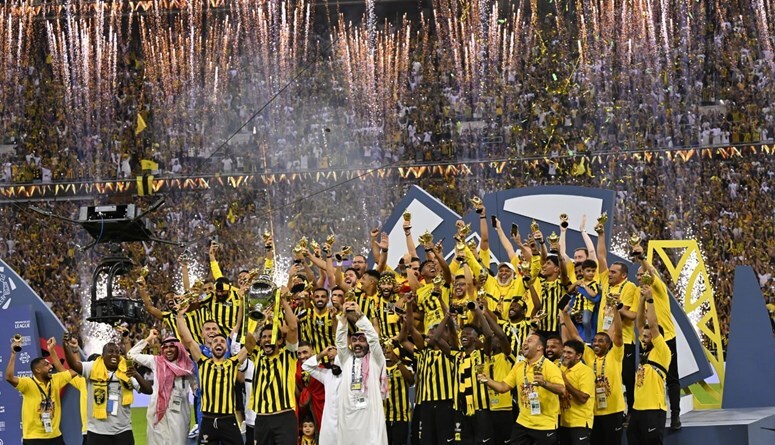 Al-Ittihad celebrated the best way to achieve the Saudi Football League title, by defeating Al-Ta'i 2-0 at home and in front of its fans, in the thirtieth and final stage of the tournament, which saw Al-Adalah Al-Batin join the second division.

The goals of the Moroccan Federation, Abd al-Razzaq Hamdallah (73 from a penalty kick), who won the tournament's top scorer title (21 goals), and Angolan Helder Costa (90 + 6) were scored at the King Abdullah Sports City stadium in Jeddah, in the presence of a large audience of nearly 60,000 fans who attended hours ago. Early to celebrate their team winning the title for the first time after 13 years.

Al-Ittihad officially won the league in the last stage, after defeating Al-Fayhaa 3-0.

On the other hand, Al-Fayhaa and Al-Khaleej succeeded in remaining for another season in the League of Lights, after defeating Al-Wahda and Abha 1-0 and 3-1, respectively, while Al-Adalah joined Al-Batin and was relegated to the second division after losing to Al-Ittifaq with two clean goals.

Al-Fayha raised its score to 33 points and advanced to the eleventh place with 33 points, while Al-Wehda dropped to the thirteenth place with 32 points.

And the Gulf succeeded in establishing its feet among the adults, although it completed the match against Abha with ten players since the 52nd minute.

Al-Khaleej raised its score to 32 in the fourteenth place with 31 points, while Abha remained in the twelfth place with 33 points.
Al-Adalah returned from where it came from, after it fell to Al-Ettifaq 0-2, to maintain its previous balance of 28 points, in the penultimate position.

On the other hand, Al-Nasr concluded its season by defeating Al-Fateh 3-0, scored by Brazilian Anderson Talisca (4 and 66) and Mohamed Maran (71), raising Al-Nasr to 67 points in second place, while Al-Fateh remained sixth with 43 points.
Tags