Sun 28 May 2023 10:33 am - Jerusalem Time
England Championship: Luton Town returns to the ranks of the elite for the first time in 31 years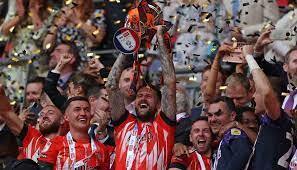 Next season, Luton Town will enter the English Premier League, Premier League, for the first time in its history, after defeating Coventry City 6-5 on penalties after the end of the original and extra time 1-1 in the qualifying play-off final for the second level of the Championship, Saturday, at Wembley Stadium in London.

Luton played its last season in the League of Lights in 1991-1992, which was the last before the league switched to its new system under the name "Premier League".

Luton joined Burnley and Sheffield United to the Premier League.

Luton finished the "Championship" in third place behind the direct qualifiers and went through the semi-finals in the "Playoff" qualifiers, where they overcame Sunderland 3-2 on aggregate (2-1 and 2-0).

In the final at Wembley Stadium on Saturday, he advanced through Jordan Clarke (23), while the Dutchman Gustavo Hammer equalized for Coventry (66), and the two teams resorted to extra time and then penalties.

Luton became the first club in the era of the "Premier League" to rise from the fifth level in the pyramid of English football to the Premier League.
Tags