Sun 28 May 2023 10:31 am - Jerusalem Time
Saudi Championship: Al-Ittihad champion for the first time since 2009, and an empty season for Ronaldo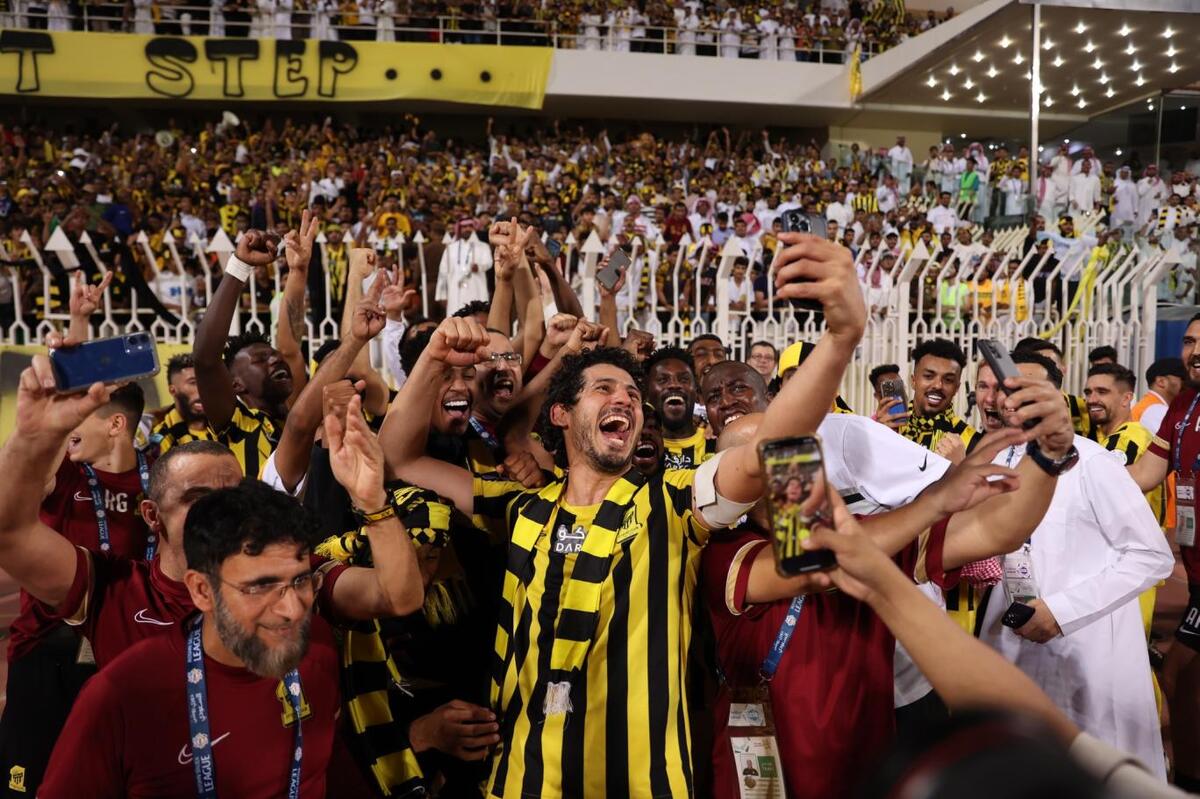 Al-Ittihad was crowned champion of the Saudi Football League for the first time since 2009, by defeating its host, Al-Fayhaa, 3-0, on Saturday, in the twenty-ninth and penultimate stage, ending the season of Portuguese star Cristiano Ronaldo and his team, Al-Nasr, empty-handed.

Al-Ittihad entered the match needing to win to win the title, regardless of the outcome of its direct chase, Al-Nasr, with a three-point advantage and its superiority over it in the two direct confrontations.

Al-Ittihad won in the first half through Ahmed Sharahili (3) and the Brazilian Romarinho (45 + 1), who in turn scored the third goal (85), so Al-Ittihad Jeddah achieved the ninth title in its history in the league.

Al-Ittihad, led by Portuguese coach Nuno Espirito, raised its tally to 69 points, compared to 64 for Al-Nassr, who fell into a 1-1 draw with its host Al-Ettifaq.

The owners of the land advanced through the French Youssef Nyakateh, while the Brazilian Luiz Gustavo equaled the victory (56).

Ronaldo's season ended empty-handed, after arriving at the beginning of the year in a fictional deal, after the team failed to achieve any title.
Al-Ittihad qualified for the 2023 Club World Cup as the champion of the host country, as Saudi Arabia will host the tournament from 12 to 22 December of this year. It is his second participation after the first in 2005 in Japan.


Al-Hilal jumped to third place after defeating its host, Abha, 3-0, at the Prince Sultan bin Abdulaziz Sports City Stadium in Al-Mahalla.

Al-Hilal Muhammad Al-Qahtani scored a hat-trick (11), Nigerian Odion Ighalo (44) and Abdullah Al-Hamdan (87) raised his score to 56 points, while Abha remained in eleventh place with 33 points.

Al-Wehda succeeded in avoiding relegation after coming from behind against its host Al-Ta'ee to a 2-1 victory at Prince Abdulaziz bin Mosaed Stadium in Hail.

Al-Taei scored first with the goal of Zimbabwean Knowledge Musona (11), and Al-Wehda responded with goals from Abdullah Al-Hafiz (34) and Abdulaziz Nour (78).
Al-Wahda raised its tally to 32 points, in twelfth place, four points away from the first relegation positions occupied by Al-Adalah, after a 2-2 draw with its host Al-Batin.

The goalless tie also settled the match of Al-Raed and its guest Al-Khaleej, so that the struggle to avoid relegation moved to the final stage between three teams: Al-Adalah (28 points), Al-Khaleej (28) and Al-Fayhaa (30), after it was confirmed that Al-Batin had previously relegated.

Uruguayan Renso Lopes (43) and Youssef Al-Shammari (67) scored for the sub, while Slovenian David Tijanish (45 + 6) and Colombian Reinaldo Linis (90 + 15) scored for justice.

Al-Taie remained in eighth place with 34 points. Al-Taawoun approached fourth place after its great victory over Al-Shabab 3-0 at Prince Faisal bin Fahd Stadium in Riyadh.

He took turns scoring the Cameroonian Leander Tawamba (34), Saad Al Nasser (52) and the Brazilian Flavio Dasilva (59).
Al-Taawon raised its score to 52 in fifth place, while Al-Shabab remained fourth with 53 points.

The tie was settled 1-1 between Al-Fateh and Damak. Firas Al-Buraikan (29) scored for Al-Fath, and Spanish Jose Antonio joined you (71). Al-Fateh raised its score to 43 points in sixth place, while Damak raised its score to 36 points in seventh place.
Tags