Thu 25 May 2023 11:04 am - Jerusalem Time
England Championship: Brighton stops Manchester City's winning streak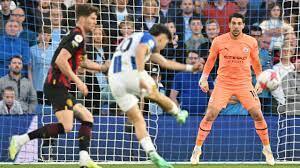 Brighton stopped the winning streak of its guest, Manchester City, at 12 consecutive victories, after imposing a 1-1 draw on it, on Wednesday, in a postponed match from the 32nd stage of the English Football League.

City, who raised its tally in first place to 89 points, won the title for the ninth time in its history without entering the field after losing its direct chaser Arsenal to Nottingham Forest 0-1 last Saturday, and celebrated the next day by lifting the cup at home with its twelfth consecutive victory in the Premier League. And it came at the expense of the injured Chelsea 1-0.

City also retained its title for the third year in a row, in an achievement achieved for the first time since arch-rivals Manchester United dominated the title between 2006 and 2009.

City stands on the threshold of a historic achievement if it succeeds in combining the League, Cup and Champions League, as it prepares to play the local cup final on the third of next June against United in particular, before facing Italian Inter in the Champions League final on the 10th of it in the capital. Turkish Istanbul.

For his part, Brighton, who will participate in a European competition for the first time in its history (European League), secured sixth place after raising its tally to 62 points.

Despite winning the title, Spanish City coach Pep Guardiola chose the element of continuity, as he did not make many changes to his starting line-up. German goalkeeper Stefan Ortega Moreno, instead of Brazilian Ederson, entered the three woods, and Jack Grealish was absent.

City opened the scoring after a pass from the Norwegian giants striker Erling Haaland to Phil Foden, who finally followed it into the net (25), 5 minutes after Brighton striker Danny Welbeck's ball hit the crossbar.

Brighton equalized thanks to Paraguayan Julio Enciso after a 30-meter missile hit goalkeeper Ortega (38), while the video assistant referee, "VAR", denied the homeowners two goals, the first due to a handball (31) and the second for offside (44).

And "VAR" prevented Haaland, the top scorer, scoring his 37th goal in the league this season, after he showed a mistake made by the 22-year-old striker on Levi Colwell before he rose to direct a header into the net (79).
Tags