Thu 25 May 2023 11:01 am - Jerusalem Time
Coppa Italia: Inter retain the title by defeating Fiorentina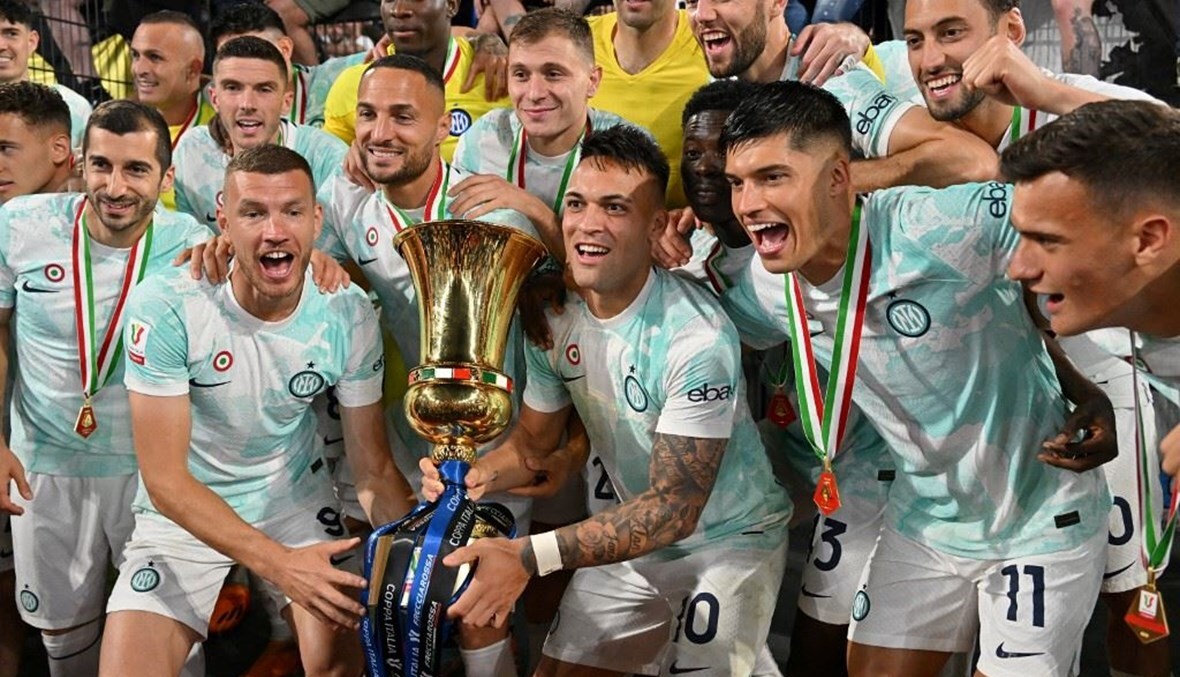 Inter retained the Italian Football Cup competition title for the second year in a row, by defeating Fiorentina 2-1, on Wednesday, at the Olympic Stadium in the capital, Rome.

Argentine striker Lautaro Martinez imposed himself as a star in the final match by scoring Inter's goals in the 29th and 37th minutes, in response to Fiorentina's goal of progress through the other Argentine, Nicholas Gonzalez, 3 minutes after the start whistle.

Inter, who is preparing for the Champions League final against Manchester City, raised the number of its titles in the competition to nine.

Inter is also equal to Roma as the second most crowned champion after Juventus, who has the record number of victories (14).
Fiorentina was aspiring to win its first title in the Italian Cup since 2001, knowing that it was preparing to compete in the final of the Conference League competition against West Ham, England.

The two teams played the meeting with two different formations from their last confrontations in the local league, as the coaches of the two teams rested their stars in preparation for the cup final. Inter lost to Napoli 1-3 and Fiorentina tied with Turin 1-1.

Fiorentina started the match strongly, stunning its opponent with the goal of advancing through Gonzalez, who hit the net with a shot in the far corner, following a perfect pass from Giacomo Bonaventura, amid the mad joy of the team's fans (3).

Coach Simone Inzaghi's men responded by taking possession of the ball, despite some outright attacks by Fiorentina, most notably by midfielder Bonaventura, who had a long shot that passed by the goal (19).

Inter almost equalized the score, but Bosnian Edin Dzeko's single shot hit Fiorentina goalkeeper Pietro Terracciano after a pass from Martinez passed over the goal (24).

And Martinez was able, through a low shot in the narrow corner, to equalize, after a wonderful pass from Croatian Marcelo Brozovic (29).

Inter continued his pressure and gave Martinez Inter the lead with a shot on the fly after a pass from Niccolo Barella (37), in his third goal in the cup this season and his 101st with the "Nerazzurri" shirt.

The second half witnessed unevenness in its course, as Fiorentina started it strongly, with a close convergence in the percentage of possession, as neither team was able to fully impose its rhythm.

Fiorentina made five substitutions in the middle of the second half, with attacking players such as Serbian Luka Jovic, Rolando Mandragora and Ricardo Sutil.

Jovic wasted two chances to equalize in the 79th and 82nd minutes, while his colleague Gonzalez (87) was not successful, to keep Inter ahead.
Tags