Wed 24 May 2023 9:56 am - Jerusalem Time
Spain Championship: Real Sociedad is close to returning to the Champions League after 10 years, and a new loss to Barcelona, the champion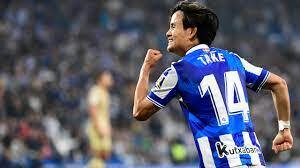 Real Sociedad is close to returning to the Champions League next season for the first time after 10 years, after its victory on Tuesday over its guest, Almeria, 1-0, in the thirty-sixth stage of the Spanish Football League.

The Japanese Takefusa Kubo scored the match's only goal in a beautiful way, after he penetrated from the right side into the area, dodging the defenders, and hit a beautiful ball with his left in the top right corner (45 + 4).

The goal came after Almeria completed the match with ten players since the 36th minute, following a direct expulsion of Colombian striker Luis Javier Soares.

The Basque team raised its score to 68 points, consolidating its fourth position, and will guarantee qualification to the main continental competition in the event of a tie or fall for Villarreal V (60 points) at home against Cadiz on Wednesday.

And after Barcelona, the champions, and the poles of the capital, Real Madrid, and Atletico secured the first three places, Sociedad hopes to return to the Champions League for the first time since the 2013-2014 season.

On the other hand, since being crowned champion two stages ago, Barcelona suffered its second successive loss by falling to its host Valladolid 1-3.
Real Sociedad spoiled the Catalan team's celebrations of the title by defeating it 2-1 in its own home three days ago.

Valladolid, who temporarily got out of the relegation circle after less than two minutes had passed, advanced with friendly fire when Barcelona's Danish defender Andreas Christiansen followed a showy header into his own net after a cross pass.

Then Silah Larrin added the second goal from a penalty kick after a mistake inside the area committed by Eric Garcia on Goncalo Plata (22), before Plata finally decided the result in favor of his team by adding the third goal (73).

Barcelona responded with an honorary goal for its Polish scorer, Robert Lewandowski, six minutes before the end.

The Pole strengthened his lead in the top scorer rankings, after raising his score to 22 goals this season, after moving from Bayern Munich.

As for Almeria Fifteenth, it suffered a setback in its endeavor to remain among the adults, as it moved away by four points from the first safe positions.

In another match, Girona VII tied with its host Celta Vigo XIV 1-1.

All teams raised banners before the start of their matches reading "Racists outside football" after racist accusations were made against Real Madrid's Brazilian striker Vinicius Junior during his team's match against Valencia on Sunday.

The phrase "Together against racism" appeared on all television networks that broadcast Tuesday's matches.
Tags