Wed 24 May 2023 9:50 am - Jerusalem Time
Saudi Championship: Al-Ittihad is a victory away from being crowned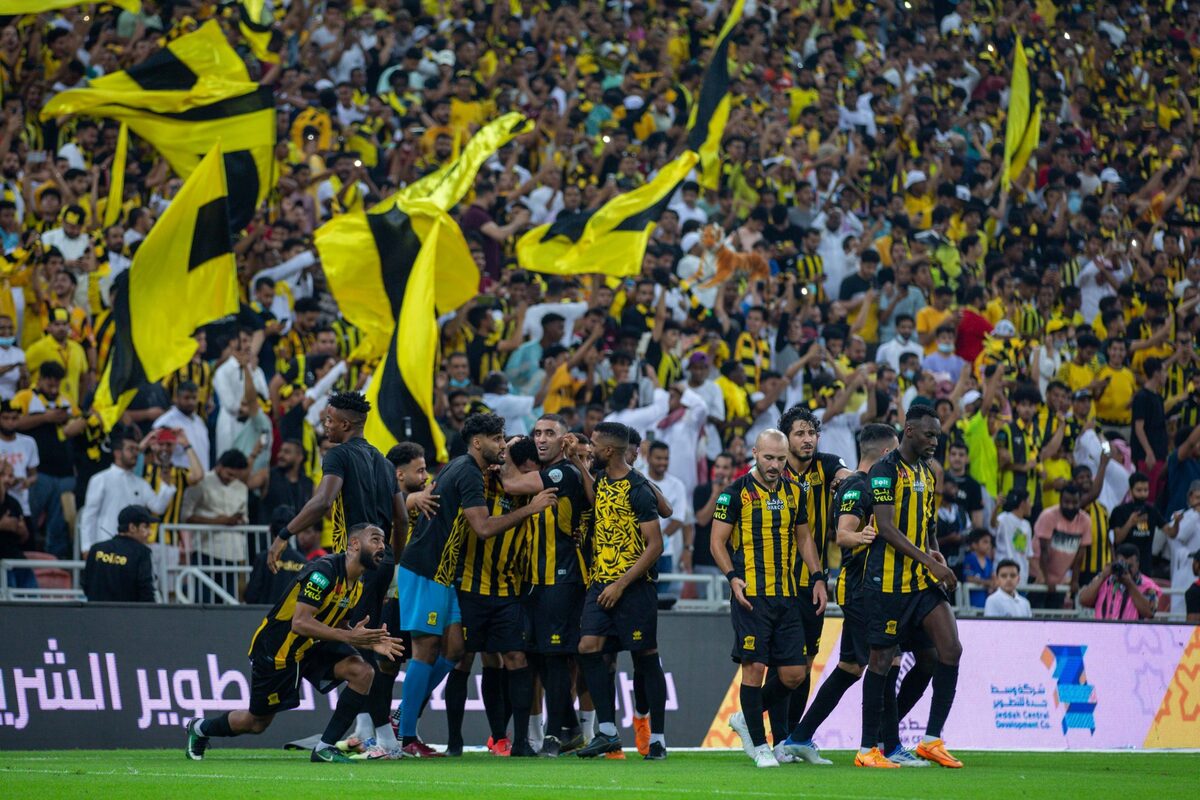 Al-Ittihad became one victory away from being crowned champion of the Saudi football league, after its difficult victory over Al-Batin, who finished in last place, 1-0 on Tuesday, while Al-Nasr and its Portuguese star, Cristiano Ronaldo, fell behind in front of its guest Al-Shabab, 0-2, to win 3-2 in the eighth stage. twenty.

Al-Ittihad raised its score to 66 points, compared to 63 for Al-Nassr, two rounds before the end of the season.

In its last two matches, Al-Ittihad will face Al-Fayhaa and Al-Tai, while Al-Nasr will meet Al-Ettifaq and Al-Fateh.

The federation, led by Portuguese coach Nuno Espirito Santo, is looking forward to winning its ninth title and its first since 2009.

In the first match, the crowd attended 54,771 fans, crowded the stands of King Abdullah City Stadium in Jeddah.
Brazilian Romarinho scored the only goal of the match (9), and the referee canceled a goal for him by his Moroccan striker Abdel Razzaq Hamdallah, after resorting to the Video Assistant Referee (VAR) technique in stoppage time in the first half.

Al-Ittihad's control continued during the course of the second half in search of a safety goal, and it got many chances, but the absence of the final touch prevented them from reaching the sub-goal.

Amid shy attempts by Al-Batin players, Abdel-Razzaq Hamdallah almost snatched the second goal at the 80th minute, but his ball went over the post, so that the confrontation continued without any real opportunity, so that the match ended with Al-Ameed's superiority with a clean goal.
The loss of Al-Batin led to his fall to the second degree.

In the second match, Al-Nasr kept its chances of winning the league title, after it came from behind against its neighbor Al-Shabab, with two goals, to win 3-2, in the derby match that took place at Al Awal Park Stadium in Riyadh.

Al-Shabab advanced with two goals from the Argentine Christian Guanca (25 from a penalty kick and 40), and the victory was won by three Brazilian Anderson Talisca (44), Abdul Rahman Gharib (51) and Portuguese Cristiano Ronaldo (59). In a third match, Al-Adalah defeated Al-Hilal with two clean goals scored by the Swedish Marcus Antonson (23 from a penalty kick) and the Portuguese Pedro Eugenio (84).
Tags