Tue 23 May 2023 6:40 am - Jerusalem Time
Egyptian Championship: Zamalek falls into a tie trap in front of the Ministry of Interior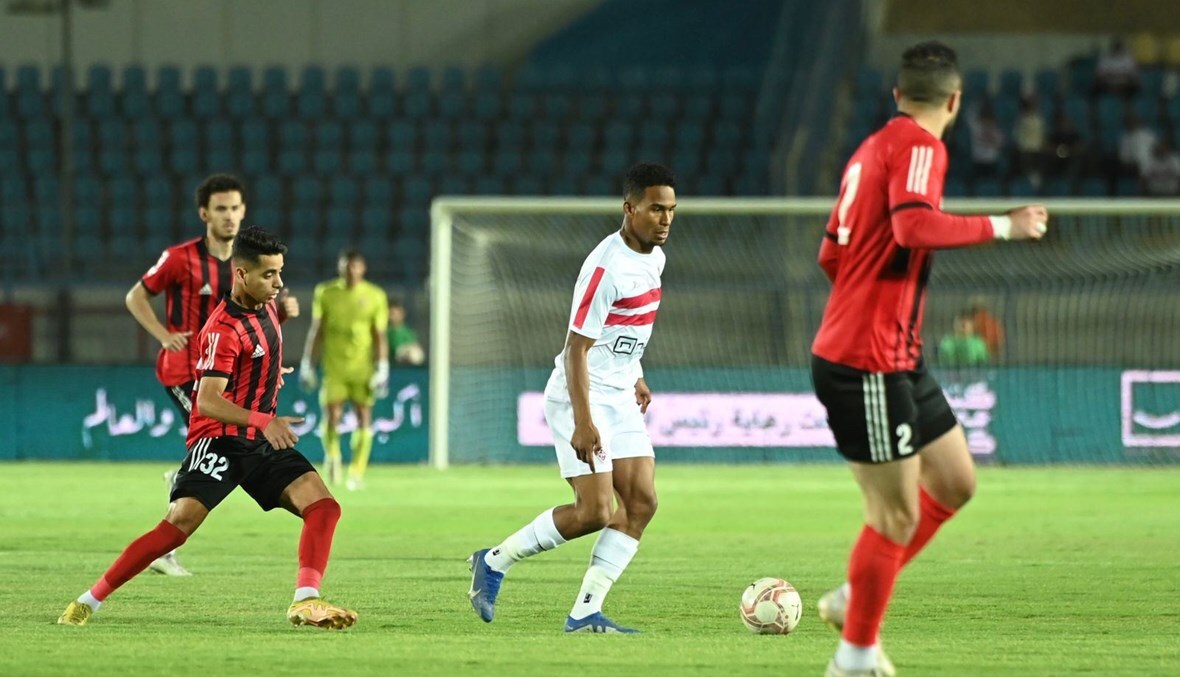 Zamalek, the defending champion, fell into a positive tie trap in front of its internal host 1-1 today, Monday, at the new Suez Stadium, in the twenty-ninth stage of the Egyptian Football League.

Zamalek advanced through Tunisian Saif Al-Din Al-Jaziri (21), and Ahmed Sayed "Zizou" missed a penalty kick for him (76), while Samir Fikry equalized for the interior (84 from a penalty kick).

Zamalek raised its tally to 47 points in fourth place, and Al-Dakhiliya to 28 points in sixteenth place.

Zamalek was the owner of the possession, but Al-Dakhliya was the most dangerous offensive, as Walid Mostafa hit a ball from a direct free kick from the edge of the area on the crossbar of Mohamed Sobhi's goal (14), and the player himself missed an opportunity after one minute when he received a ball from Abdel Rahman Al-Banoubi behind Zamalek's defense, so he singled out and hit it, but Sobhi pushed her away with difficulty to a corner.

Zamalek responded strongly, opening the scoring when Mustafa Shalaby took a corner kick and passed it to Mahmoud Abdel Razek, "Shikabala", who dodged one of the defenders and crossed it, followed by Al-Jaziri with his head to the left of Imad Al-Sayed (21).

The interior players continued their offensive pressure on the confused defense of Zamalek, and from a pass by Samir Fikry, Ali Al-Zahdi singled out and hit a ball that bounced off Muhammad Sobhi's hand and into Al-Zahdi's body and continued its way towards the goal, but Hossam Abdel-Majid from the line to a corner did not bear fruit (41).

Nigerian substitute Rashid Ahmed almost did it at the beginning of the second half, but his shot went past the right post (49). Senegalese Ibrahima Nday responded with a shot from inside the area next to the right post of Al-Sayed's goal (52).

Sobhi almost cost his team an own goal after he made a mistake in passing inside the area, as the ball reached Rashid, who crossed it instead of shooting it into the empty goal (65).

Zamalek got a penalty kick after Tunisian defender Hamza Al-Mathlawi was blocked inside the area by Nigerian Kelechi Chimzi, so Zizou gave it a shot, but it rebounded from the crossbar and was dispersed by the defense (76).

The Ministry of Interior also got a penalty kick when Rasheed was fouled by Sobhi, so Fikri pushed her to the right of the Zamalek goalkeeper, scoring the equalizer (84).

Al-Masry restored the tone of victories absent from five matches, with a thrilling victory over its host, Al-Ittihad of Alexandria, 2-1, at El-Geish Stadium in Borg El-Arab.

Al-Ittihad of Alexandria advanced through its Angolan attacker Job Mabululu (25), raising its score to 14 goals at the top of the scorers' list, but Al-Masry responded with goals from Mohamed Abdel-Latif "Grindo" (34 from a penalty kick) and Tunisian substitute Elias Al-Jelassi (73 from a penalty kick).

Al-Ittihad played with ten players after its defender Mahmoud Alaa (89) was sent off for obtaining a second yellow card for objecting to the match referee's decisions.

Al-Masry achieved the first victory since its victory over Haras Al-Hodood with a clean goal in the twenty-fourth stage on the seventh of last April, raising its score to 40 points in sixth place.

It was also the first victory under the leadership of its coach Mimi Abdel Razek, who assumed responsibility, succeeding Hossam Hassan Al-Maqal from his position, while Al-Ittihad received the second successive loss and the eleventh this season, so its balance froze at 40 points and fell to seventh place.

The negative tie settled the confrontation of the Arab Contractors and its guest, Tala'a Al-Jaish, at Othman Ahmed Othman Stadium in Cairo.

Al-Mokawloon raised its tally to 41 points in fifth place, and Tala'a Al-Jaish to 26 points in seventeenth place.


Tags