Mon 22 May 2023 5:53 am - Jerusalem Time
Spain Championship: Valencia performs a service for Atletico by defeating Real Madrid, and the racism storm blows again in the face of Vinicius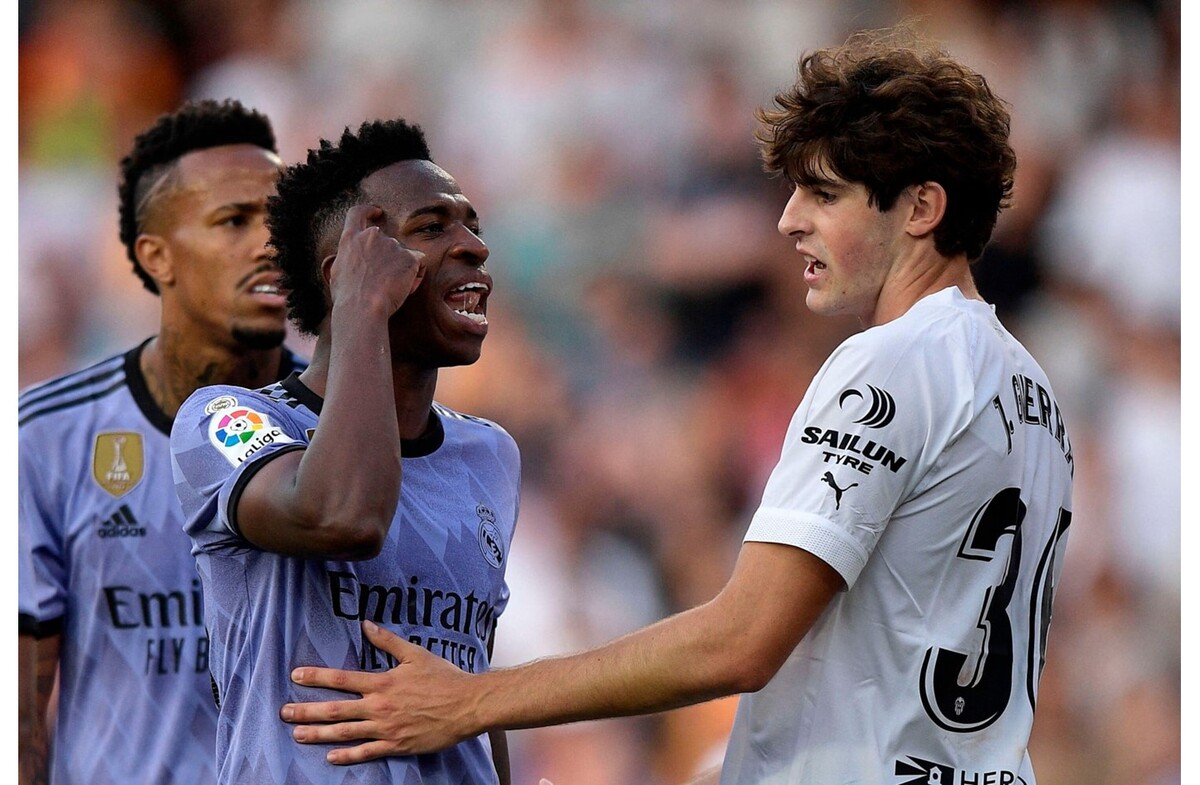 Valencia rendered Atletico Madrid a great service and dropped Real Madrid 1-0, to enhance the former's hopes of staying in the Spanish Football League, in a meeting that was overshadowed by racist abuse against Brazilian player Vinicius Junior.

Young player Diego Lopes gave Valencia the lead in the first half (33), but the second half was chaotic and witnessed tension between Vinicius and the host fans at the Mestalla stadium, before the Brazilian striker was later sent off for striking Ugo Duro during forms between them.

The match was delayed for several minutes, after the Brazilian player was subjected to clear racist abuse by a Valencia fan.
Vinicius stood behind the goal, heading to one of the fans, pointing at him, while his compatriot Eder Militao stood beside him.

The match referee, Ricardo de Burgos Bengotizia, spoke to the stadium officials, who demanded that the racist abuse stop immediately so that the match could continue.

"I don't want to talk about football, I want to talk about what happened here, it's more important," Real coach Carlo Ancelotti told Movistar.

He added, "A stadium screams a monkey at the player, and the coach is thinking of taking the player out. There is something bad in this league."

In turn, Merengue midfielder Dani Ceballos told Movistar, "There is a lack of respect for Vinicius that appears continuously in almost every stadium in Spain."

"It is a shame that we have reached this point. It is true that the coach asked him if he wanted to continue playing," he continued.

And he added, "Vinicius is a professional and said he wants to continue helping the team, but we see that we cannot do anything."

For his part, Valencia striker Justin Kluivert apologized to Vinicius on behalf of his club. "I apologize to all of us, the entire Valencia team, because this is not football. It is very bad," he told Movistar.

The delay lasted for about ten minutes, after which the match was completed, and Georgian goalkeeper Giorgi Mamardashvili wonderfully saved Fede Valverde's attempt.

And then the Valencia goalkeeper made a wonderful save for Toni Kroos' free kick.

In stoppage time, there was a problem between the players of the two teams, before Vinicius was sent off for Doro's arm kick.

And Valencia advanced to the thirteenth place with 40 points, to get closer and closer to confirming its survival in the elite league.

Real Madrid remained in third place, after Atletico Madrid snatched an important 3-0 victory over Osasuna, to advance to second place.

And now Atletico has 72 points, one point ahead of Real Madrid, 3 stages before the end of "La Liga".
On the other hand, Osasuna ranks ninth with 47 points.

Yannick Carrasco gave Rojiblancos the lead against the Spanish Cup runner-up, after an assist from Frenchman Antoine Griezmann (44).

Argentine coach Diego Simeone was forced to replace veteran striker Alvaro Morata after he was hit in the back by Osasuna defender David Garcia.

Saul Niguez doubled his team's lead after advancing into the area and fired a powerful shot (62).

Argentine Angel Korea finished the goal festival with a third, low shot, following a through ball from Rodrigo de Paul (82).

Atletico decided to return to participate in the Champions League next season by defeating Osasuna, after their humiliating exit from the group stage.

The loss also dealt a painful blow to Osasuna's ambitions to qualify for one of the continental competitions next season.
The match between Real Betis and its host Sevilla ended in a goalless draw.

Betis remained in sixth place with 56 points, while Sevilla ranked ninth with 48 points.

And Espanyol, the nineteenth, achieved a valuable victory over Rayo Vallecano 2-1, to reduce the difference with Valladolid and Getafe, who are one point ahead of him in the danger zone.
Tags