Mon 15 May 2023 1:56 pm - Jerusalem Time
The trial of Islamic thinker Tariq Ramadan on charges of rape begins in Switzerland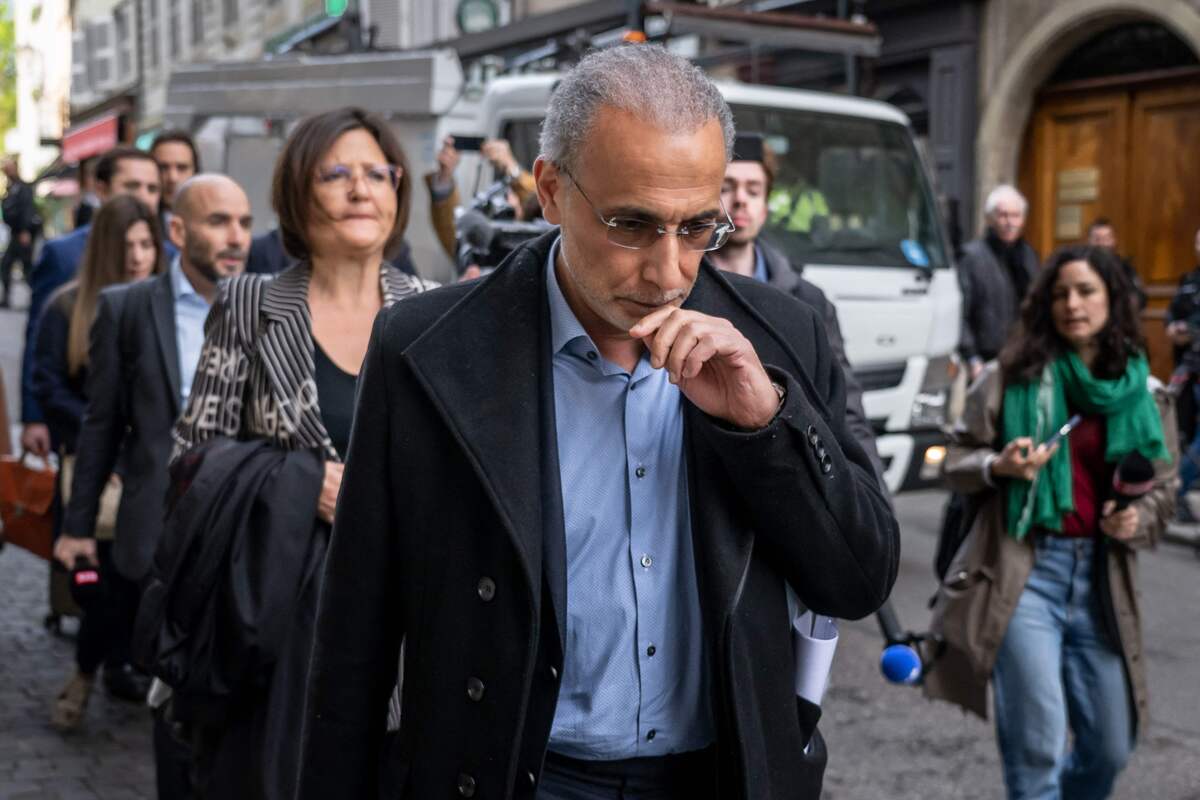 Monday, the trial of Islamic thinker Tariq Ramadan began before a criminal court in Switzerland on charges of "rape and sexual coercion", which he denies committing.

Tariq Ramadan arrived shortly after 08:30 (06:30 GMT) to the court, where many had come to follow up on the hearings.

The Islamic researcher and his lawyers refrained from making any statement to the journalists who came in large numbers to cover this first trial, which will last for three days.

The Swiss plaintiff, who says she lives under threat and uses the pseudonym "Brigitte", was about 40 years old when the alleged incidents took place some 15 years ago.

She asserts that Ramadan subjected her to brutal sexual acts, accompanied by beatings and insults, on the evening of October 28, 2008, in a hotel room in Geneva.

Tariq Ramadan, who is sixty years old today, and who may face trial for similar incidents in France as well, admitted that he met the plaintiff, but confirmed during the investigation that he had given up the idea of having a sexual relationship with her.

The Swiss thinker, who is causing controversy in European Islamic circles, faces the possibility of a prison sentence of two to ten years if he is convicted. Contacted by Agence France-Presse, one of his French lawyers, Philippe Ohayon, declined to comment.

The verdict will be issued on May 24, according to what the judicial authorities in Geneva told AFP. Tariq Ramadan can appeal the verdict.

Ramadan holds a PhD from the University of Geneva, where he wrote a thesis on the founder of the Egyptian Muslim Brotherhood, Hassan al-Banna, his maternal grandfather. He was a professor of Islamic studies at the University of Oxford in the United Kingdom until November 2017 and a guest professor at several universities in Morocco, Malaysia, Japan and Qatar.

Ramadan is popular among conservative Islam, but it raises controversy, especially among advocates of secularism, who consider it a supporter of political Islam.

In France, he is suspected of committing rape between 2009 and 2016, targeting four women, a case that caused his downfall in 2017.

In July, the Paris Public Prosecution requested that he be referred to the Criminal Court, and it is up to the investigative judges to decide whether or not to try him.

As part of the French file, he was imprisoned for nine months in 2018 and released in November of the same year. He has been under judicial control since then.

One of the legal conditions imposed on him is to reside in France, but he obtains exceptional permissions to leave French territory to go to Switzerland in the context of the current case.

During the investigation, Brigitte, who converted to Islam, said that she met Ramadan during a signing session for one of his books months before, on the night of October 28, 2008, and then during a conference in September.

This was followed by more intimate correspondence through social media. On the night of the supposed facts, she met him at a hotel where he was staying in Geneva.

According to "Brigitte", Ramadan forced her in the room for hours to perform sexual acts accompanied by violence.

The indictment states that he committed "three rapes" during the same night, as well as "sexual coercion" during which she almost suffocated. The Islamic researcher denies that he is older than what he is accused of.

"This trial is an ordeal for my client, not a cure," said Brigitte's French lawyer, Francois Zimmerai, a former diplomat and expert in human rights.

"It expects a difficult and painful confrontation, but it is ready for it and convinced that this battle is a duty and an ordeal at the same time," he added.
Tags