Wed 31 May 2023 9:35 am - Jerusalem Time
Celebrations of the wedding of the young crown prince occupy the Jordanians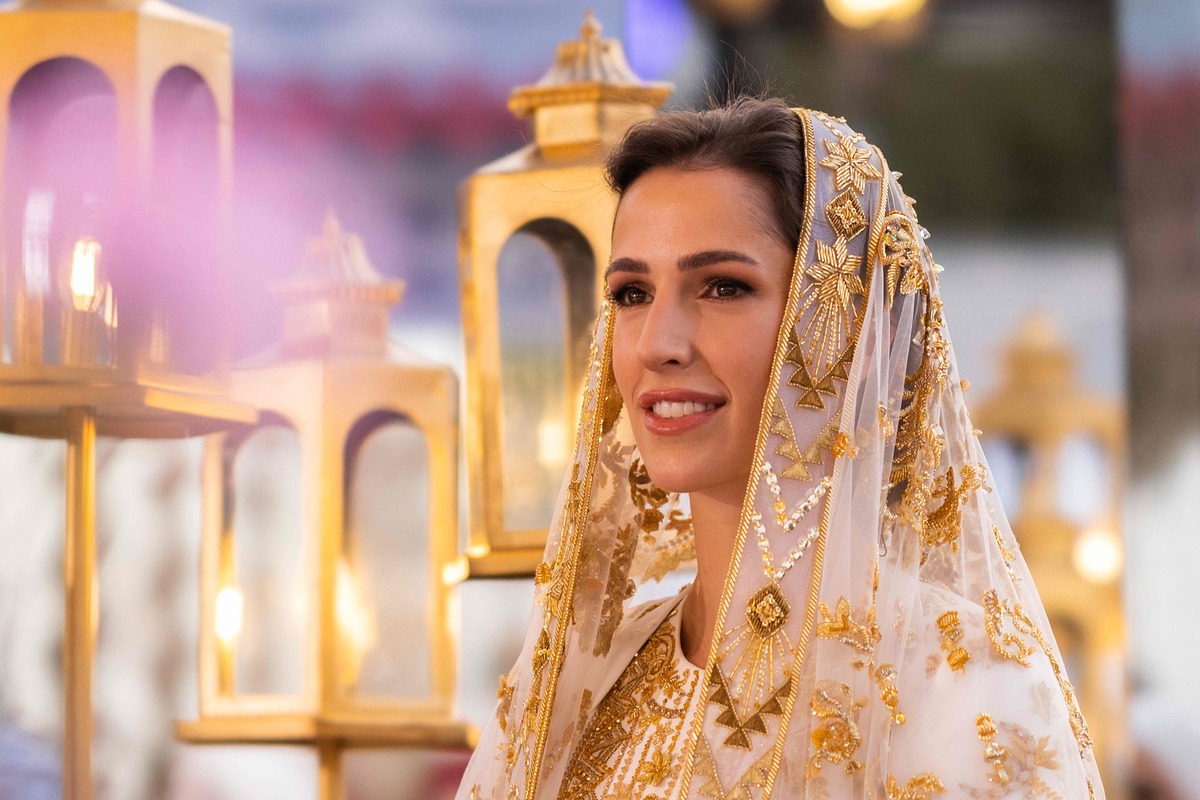 Jordan is busy with various activities to celebrate the wedding of Crown Prince Hussein and his Saudi fiancée, Rajwa Al Saif, in an event that is similar in terms of its follow-up and circulation on the Internet to the celebrations of royal families in the West, which is unique to the Jordanian royal family in a conservative Middle East in general.

The royal wedding takes place on Thursday, but the festivities began nearly a week ago with air shows, fireworks and free concerts.

Jordanians shared, on social media, pictures and video clips of the bride's henna night party last week, and of the bride's white dress, which bore the phrase woven with golden threads, "I see you, so I have life." It is a verse adapted from a poem of spinning by the famous Tunisian poet Abu al-Qasim al-Shabi (1909-1934). ).

A video clip posted by the Royal Court on YouTube shows the sisters of the Crown Prince, Princesses Salma and Iman, and their mother, Queen Rania, singing, clapping and dancing with the attendees.

Lara Al-Lati, 35, a tourism office employee and social activist who participated in the henna night, told AFP, "The party was very simple, like any Jordanian night of joy... Even the food was Jordanian dishes."

Al-Lati shared photos from the ceremony on her Facebook account. And she added, "The atmosphere, the decorations, and the ululation are of a simple Jordanian character, making you feel like you are in a family party."

Al-Lati talks about "the humility of the Hashemite family, and the true joy of those present," adding, "Everyone took pictures and posted them on social media. This may not happen with other royal families."

Queen Rania delivered a speech during the henna night, in which she said, "Hussein is my first joy, my eldest son (...). Like any mother, I have long dreamed of seeing him as a bride."

She added, "Hussein is your son, and you are his family, and this is your wedding."

After the henna night, a show was held in the sky of Amman, with drones painted with their lights in the shape of a royal crown and phrases including "We rejoice in Hussein."

Suhad Al-Idrisi, 45, and her sister and niece wore T-shirts that read "We rejoice in Hussein." They carried Jordanian flags and attended a free concert at Amman Stadium on Monday, which was performed by Arab artists Ragheb Alama, Tamer Hosni, Ahmed Saad, Diana Karazon and Zain Awad.

"This is Jordan's bridegroom, and we must celebrate him," al-Idrisi told AFP, adding, "It is an opportunity to live an atmosphere of joy, since for a long time we have not seen this joy in Jordan," which suffers from difficult economic conditions, noting that she prepared sweets and roses to be distributed on the wedding day.

And she continued, "The Hashemite family is close to us and has nothing to hide. Full details of the wedding can be seen through communication sites and live broadcasts, not like other Arab ruling families."

Al-Idrisi considered that "the use of social communication by the Hashemite family brings them closer to the ruling families in the West."
Artist Hussein Al Jasmi will hold another free concert on Saturday at the Roman Amphitheater in central Amman.

On Thursday, the red royal motorcade, which appears on royal and national occasions, will roam the streets of Amman, accompanying the car of the prince (28 years old) and his bride (28 years old), as it accompanied the two wedding processions of King Abdullah and King Hussein before him.

The convoy, which will carry 71 members of the Royal Guard, will consist of 14 red convertible Land Rovers and 10 motorcycles.
After the wedding, a reception and dinner will be held in the Husseiniya Palace.

Prince Hussein, the eldest son of King Eidallah and Queen Rania, became crown prince in July 2009 when he was 15 years old.
The young prince is active on social media, especially through the "Instagram" account, which has four million followers, and is managed by the Crown Prince personally. He publishes pictures of his activities, his practice of climbing in Wadi Rum and his military training, in addition to pictures with his family members and his fiancee.

Prince Hussein, who has colored eyes and a light beard, focuses his activities on the youth sector and seeks to support and empower them through the Crown Prince Foundation, which he established in 2015 to provide initiatives and opportunities for young people.

And he, like the rest of the royal family in Jordan, is respected among Jordanians who are known not to be openly critical of the royal family.
The prince finished high school at King's Academy in Jordan in 2012, and studied international history at Georgetown University in the United States before taking, like his father and grandfather, King Hussein, military lessons.

He has a brother, Prince Hashem, in addition to his two sisters.

The bride was born in Riyadh, and she is a descendant of the sheikhs of Sudair in Najd. She has two brothers, Faisal and Nayef, and a sister, Dana. She received her high school education in Saudi Arabia and completed her higher education at the School of Architecture at Syracuse University in New York.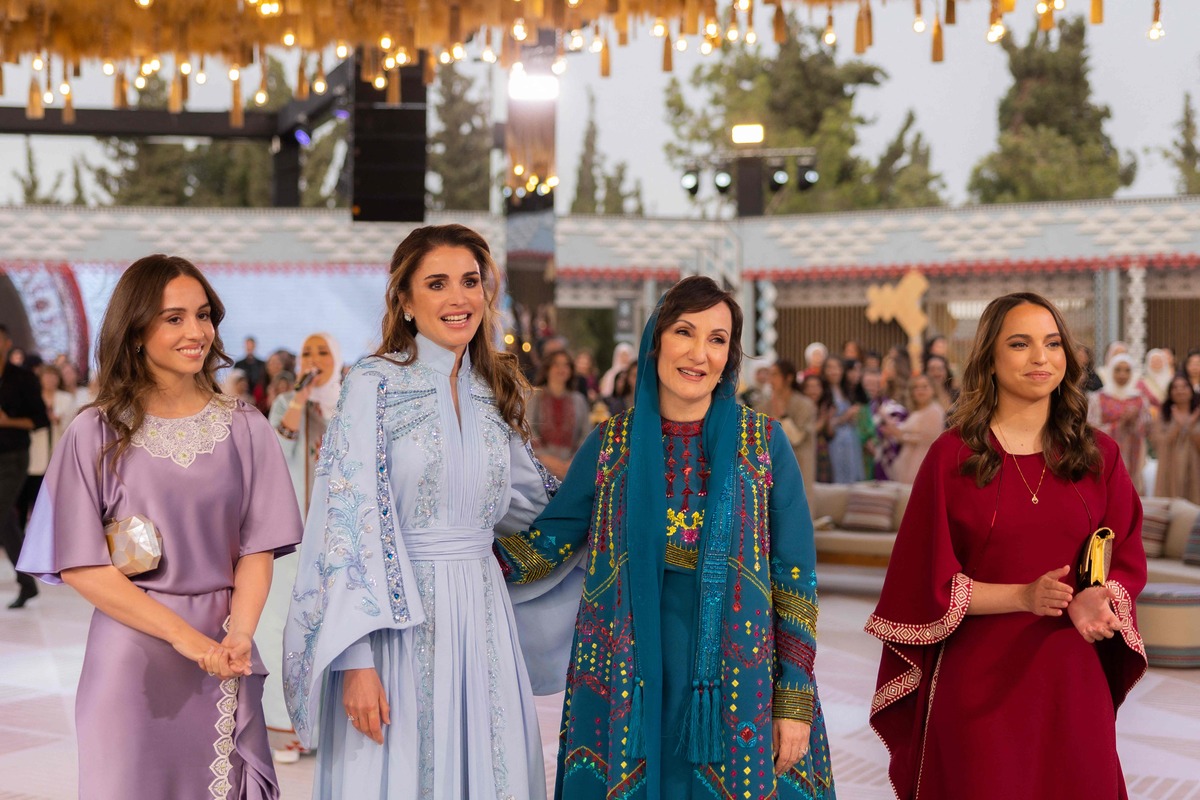 The wedding will be attended by international personalities, most notably Jill Biden, the wife of the US President, and the King of the Netherlands, Willem-Alexander, and his wife.
Since graduating from the British Royal Military Academy "Sandhurst" in 2017, Prince Hussein has been under the spotlight.

"The royal wedding culminates in an advanced step in its preparation," said Oraib Al-Rantawi, director of the Jerusalem Center for Political Studies. "It brings it closer to popular circles, and at the international level, through the presence of personalities from royal families or ruling families."
And he stresses that "this contributes to the consolidation of the Emir's network of relations."

Al-Rantawi points out that the royal court used social media to give Jordanians a greater opportunity to see the details.
"For years, the king has personally supervised the preparation of the prince, who appears in visits, conferences and important meetings always at his side," said writer and former information minister Samih al-Maaytah.
He points out that marriage is "a human and social event related to the continuity of the royal family."
Tags