Fri 26 May 2023 10:10 am - Jerusalem Time
The Museum of the House of Islamic Arts in Jeddah... the first of its kind in the Arab and Islamic world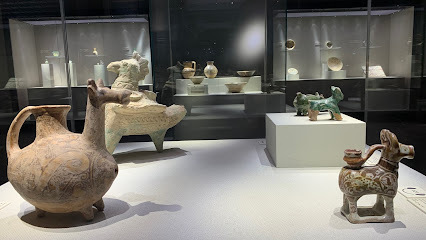 The Saudi Ministries of Information and Foreign Affairs organized a tour for media delegations on the eve of the 32nd Arab Summit that was held last Friday in Jeddah to the House of Islamic Arts. It is the first museum of its kind in the Kingdom of Saudi Arabia, as a museum specialized in Islamic art. It includes a collection of collections and works of art that sum up time and represent many schools. For different periods of the arts of Islamic civilization of historical and cultural value. The museum came to reflect the various arts that Islamic civilization has reached from the farthest countries of China and India to the farthest countries of Morocco and Andalusia, as it contains more than a thousand pieces of art representing 15 centuries of the history of Islamic art from all countries of the Islamic world.

Our accompanists Raghad Al-Ghamdi and Moaz Abdel-Rahman said during the explanation, which they summarized in these words: "The first pavilion presents the history of pottery and ceramics and its development throughout the Islamic world from the first to the tenth centuries, by displaying an important group of ceramic objects that were created through the use of ceramic techniques different.

The second pavilion included a variety of metal works produced by Muslims from the dawn of Islamic history until the thirteenth century, such as utensils, lamps, incense burners, ornaments, decorative tools, and astronomical tools.

The pavilion also displays more than 500 coins circulated by Islamic peoples from the Prophet's era until the modern era. The exhibits include many gold dinars, silver dirhams, and copper fils that Muslims dealt with in the first centuries of Islam.

As for the fourth wing of the museum, it reflects the influence of artistic production on other cultures in Islamic civilization through the manufacture of ceramics, metals, and decorative arts, from the second until the thirteenth century.

As for the calligraphy and manuscripts wing, it included a number of Qur'anic manuscripts dating from the second century to the fourteenth century AH. The exhibits vary to include the Qur'an papers written on parchment (animal skin) or paper. It also includes a number of manuscripts and calligraphic paintings written in the most famous types of Arabic calligraphy.

And in the wing of the covering of the Holy Kaaba and the Prophet's chamber in the last wing, the Islamic textiles that were used in the covering of the Kaaba from the inside and the covering of the room of the Holy Prophet. The wing also includes a number of curtains that were used to decorate the Kaaba Gate and the Gate of Repentance during the past ages. In addition to the belts, lanterns and fabrics that used to wear the Holy Kaaba and the room of the Holy Prophet.


Tags