Mon 08 May 2023 9:54 am - Jerusalem Time
Luncheons and concerts following the coronation of King Charles III in Britain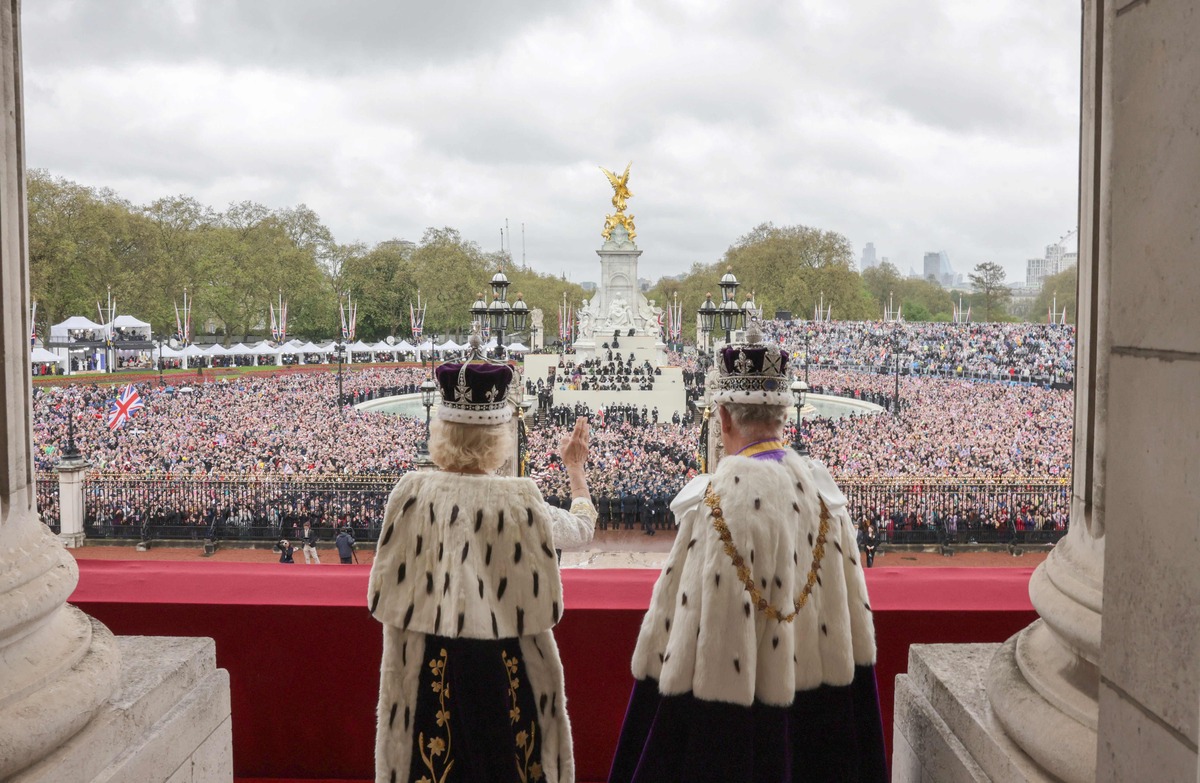 Britain celebrated the coronation of King Charles III, where a concert was held at Windsor Castle, which was performed by a large number of stars and attended by about 20,000 people, in addition to millions in Britain and all over the world.

And King Charles and Queen Camilla watched from a royal room in the castle, which is located west of London, the concert that was performed by Lionel Richie, Katy Perry and the British band "Take That".

Thousands of huge screens were set up across Britain to show the concert, which was also performed by a band of 70 musicians and several choirs, while the organizers said it would also be shown in more than 100 countries.

Amid performances of music and video congratulations from an array of public figures, Prince William took to the stage to honor his father the day after he was officially crowned king.

William said his grandmother, the late Queen Elizabeth II, was "up there watching fondly at us," adding that she would be "a very proud mum."
"For more than 50 years, in every corner of the United Kingdom, across the Commonwealth and around the world, he has dedicated himself to serving others, both present and future generations," the heir to the throne added.

"Dad, we are all proud of you," he continued.

Thousands of Sunday lunches and celebrations were held in the UK, with US First Lady Jill Biden taking part in a banquet outside Downing Street hosted by Prime Minister Rishi Sunak for volunteers, Ukrainian refugees and youth groups.

More than 67,000 "big luncheons" and neighborhood parties were held over the coronation weekend. The last two anniversaries of Queen Elizabeth II witnessed such events.

Other members of the royal family attended the country's scheduled "big luncheons" and neighborhood parties. Prince Edward and his wife Sophie went to Cranley in Surrey (south), Princess Anne and her husband Tim Lawrence to Swindon, in the Cotswolds (west) and Princesses Beatrice and Eugenie to Windsor.

And the king and queen sent via Instagram "best wishes" to the participants in this huge banquet, wishing them "very happy times."

And soon, attention turned to Windsor Castle, which hosted the evening singing, which was attended by senior members of the royal family, including Prince William, his wife Kate, and two of their three children, in addition to Sunak and other dignitaries.

Earlier, William surprised fans on Long Walk in Windsor with an unannounced visit with Kate, where he had a drink with one of the royal's admiring families, before giving a speech at the concert.

The ceremony opened with a performance by arranger Pete Tong from the album "Ibiza Classics" at the personal request of the King, followed by British singer Ollie Morse and a host of other stars.

For the first time, the Royal Ballet, Royal Opera, Shakespeare Company, the Royal College of Music and the Royal College of Art have collaborated for a one-off joint performance.

Later, Lionel Richie performed a group of his most famous songs, and Tom Cruise, Joan Collins, singer Tom Jones and others appeared in congratulatory messages via video.

On Monday, a public holiday given specifically to mark the coronation, Britons were invited to take part in volunteer work but the royal couple did not plan any public appearances.

Saturday's religious coronation in London of Charles III was a historic day marked by the grandeur associated with major events of the monarchy.

The image of Charles, crowned, made the Sunday front page of all British newspapers, as did international newspapers.

After ascending the throne following the death of his mother, Queen Elizabeth II, Charles III was crowned on Saturday as King of the United Kingdom in Westminster Abbey during a solemn religious ceremony dating back a thousand years of history and traditions, but it was adapted to reflect the image of Britain in the twenty-first century in front of about 2,300 invitees, after which his wife was crowned. Camilla is a queen.

Surrounded by horsemen, the couple returned in a golden carriage to Buckingham Palace, then greeted the crowds from the famous balcony.

The coronation ceremony was held for the first time in 70 years, as its last version dates back to 1953 when Charles Elizabeth II's mother ascended the throne and held it until her death in September 2022 at the age of 96, after Britain's longest reign.

More than 14 million viewers watched, live on BBC, the moment the Archbishop of Canterbury, Justin Welby, placed on the head of Charles III, 74, the crown of St. Edward, made of pure gold and studded with precious stones.

Their number reached 31 million to watch Princess Diana's funeral in 1997 on the BBC and ITV.

Charles, the oldest British monarch ever to be crowned, is not as popular as his mother, Elizabeth II, who died in September. Anti-monarchy protesters demonstrated in London on Saturday as the motorcade passed, and in Scotland and Wales as well.

About 15 percent of Britons believe the monarchy should be abolished.

On Saturday morning, London police arrested six leaders of the anti-monarchy "Republic" movement, including the head of the movement, Graham Smith. They were released hours later in the evening. Their arrest drew sharp criticism.

"I'm out now. Don't be fooled. The right to peaceful protest no longer exists in the UK," Smith tweeted.

In total, British police announced that they had arrested 52 protesters Saturday "on charges of disturbing public order and security and plotting to cause a public disturbance around the coronation".
Tags