Mon 08 May 2023 9:10 am - Jerusalem Time
Al-Safa Bank announces the winner of the Eid Al-Fitr cash prize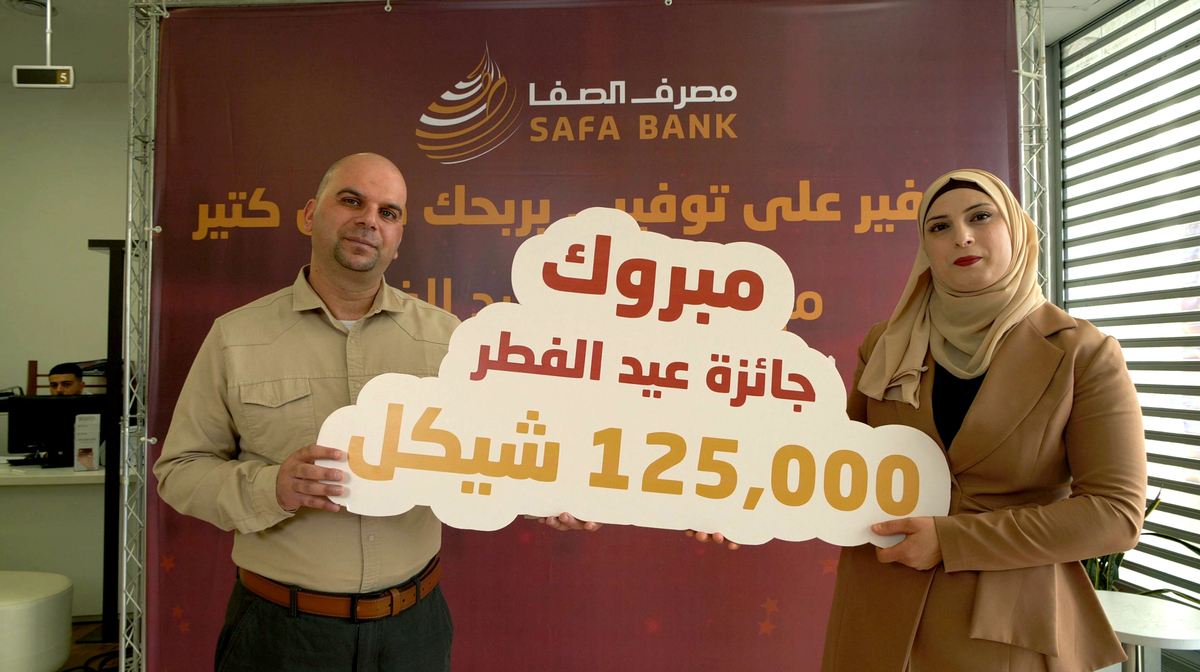 Al-Safa Islamic Bank announced the delivery of the monthly cash prize to the winner, Muhammad Abdel-Amir Ahmed Shehab, from the city of Al-Bireh, as part of the savings account campaign for this year, which included special prizes for the month of Ramadan and holidays. The value of the monthly prize for the month of April was 125,000 shekels, and it is special for Eid al-Fitr.
On this occasion, the winner expressed his great joy with this award, describing it, saying: "This award is a real joy for me, and I never expected to win it." He added that his confidence in the bank and its distinctive and unique services made him consider this win as evidence that the bank seeks to change the lives of its customers, whether by encouraging them to save, which in itself helps them for their future, or by offering prizes of high value that can improve their situation for the better.
It is noteworthy that, on the occasion of the holy month of Ramadan and Eid al-Fitr and Eid al-Adha, the bank presented special prizes, especially for the status and spirituality of these occasions. In addition to the Eid Al-Fitr cash prize, the bank presented 20 Umrah trips to 20 winners within a daily draw campaign for the savings account during the month of Ramadan, through which the winners were able to enjoy a paid Umrah trip that they could perform during the month of Ramadan or at any other time during the year.
The savings account campaign is considered one of the most important campaigns that the bank launches annually, out of its keenness to appreciate its customers and encourage them to increase their savings. During the current year, the bank encouraged all members of society to open savings accounts at the bank, to enter the daily, weekly and monthly cash campaign prize draws, in addition to a prize of one million shekels at the end of the campaign. It should be noted that any person who has a minimum savings of $200 in the bank can enter the draws for all cash prizes during the campaign period.
Tags