Mon 18 Sep 2023 2:56 pm - Jerusalem Time
Palestinian Authority discussed progress on sanitation project with European Investment Bank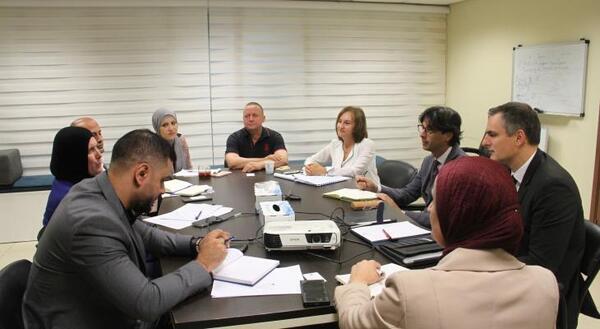 Today, Monday, a team from the Water Authority and the Ministry of Finance discussed, with a delegation from the European Investment Bank, the latest developments in the sewerage project that will be established northeast of the city of Ramallah.
The value of the project, funded by the European Union and the European Investment Bank, in the first phase is 40 million euros, as it includes establishing a wastewater collection and treatment system, while the second phase, worth 18 million euros, includes the reuse of treated water in agriculture.
The Director of Wastewater Plants at the Water Authority, Adel Yassin, updated the European team on the latest developments regarding the tenders for designing the sewage networks and the treatment plant, which are financed through the World Bank, and the technical, administrative and financial readiness of the Water Authority to complete all requirements for the implementation and operation of the project.
In turn, the project file official at the European Investment Bank, Michael Nosek, said that the project financing procedures are going according to plan, and there are no obstacles or challenges facing the project, indicating that a draft of the project financing agreement will be prepared during the next month, with all procedures for signing the financial agreement completed. Which will take place before the end of next November.
It is noteworthy that the project serves 80,000 citizens in 14 communities in the northeastern Ramallah area, and consists of sewage networks, conveyor lines, a solar energy system treatment plant in the first phase, and reuse of treated water in the second phase.
Tags