Wed 27 Sep 2023 10:38 pm - Jerusalem Time
Palestine Ministry of Economy and European Bank discuss areas of joint cooperation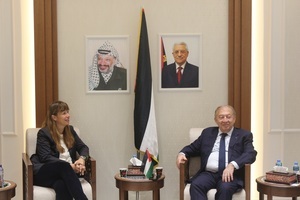 Today, Wednesday, Minister of National Economy Khaled Asseili and Director of the European Bank for Reconstruction and Development (EBRD) for the Eastern Mediterranean Region, Gretchen Berry, discussed areas of cooperation to develop the Palestinian economy.
During the meeting held at the Ministry's headquarters in Ramallah, Asili and Perry stressed the importance of the efforts being made to improve and develop the business environment and enhance the capabilities and capacities of the small and micro enterprises sector, which is the basic feature of the Palestinian economy.
They pointed to reforming the legal environment regulating the economy, especially the adoption of the Companies Law, which achieved positive results, as the number of registered companies for the year 2022 increased by 17% compared to the year 2021.
Asili stated that work is underway to prepare a draft insolvency law due to its importance in enhancing financial stability, and it addresses all bankruptcy and liquidation issues that concern companies and individuals.
At the end of the meeting, they agreed to provide the necessary and encouraging support to women, by providing technical support to develop and empower their projects.
It is worth noting that 98.6% of the Palestinian economy consists of the micro, very small, small, and medium enterprises sector (MSMEs), which absorbs about 81% of the workforce.
Tags