Wed 29 Mar 2023 11:32 am - Jerusalem Time
A major Saudi expansion in the aviation sector to compete with the Gulf aviation giants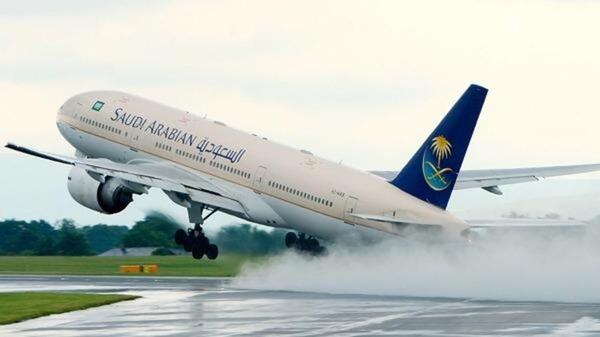 Saudi Arabia has adopted a strategy for the aviation sector based on expanding significantly to obtain a share of the market that is dominated by huge companies in other Gulf countries , and in this context it announced the launch of a new national airline and a large order to purchase Boeing aircraft.

The project falls within the framework of the Kingdom's attempts, which have been closed for decades, to become a center of attraction for the business and tourism sectors, but experts in the aviation sector believe that its success in the field of aviation in particular is not guaranteed, despite the great official support.

Earlier this month, Saudi Crown Prince Mohammed bin Salman, the kingdom's de facto ruler, officially launched Riyadh Air, which aims to turn the Saudi capital into a "gateway to the world," in the words of state media.

Just two days later, officials announced that Riyadh Airlines and Saudi Airlines, the kingdom's current national carrier based in Jeddah, would buy 78 long-haul Boeing 787 Dreamliners.

The deal, which the White House estimated at $37 billion and could later reach 121 aircraft, is the fifth-largest deal in terms of commercial value in Boeing's history.

The CEO of "Riyadh Air" Tony Douglas told AFP that the company will serve the international, regional and local markets, which puts it in direct competition with "Emirates Airlines" and "Qatar Airways".

Independent aviation expert Alex Macheras said the Saudi expansion raises difficult questions about how Riyadh Air can capture market share, especially at a time of increasing non-stop flight options that bypass the Middle East altogether.

"Replicating and building on the successful business models of neighboring Gulf airlines will be challenging in a crowded market where passengers have so many choices," Macheras said.

Saudi Airlines, also known as Saudi Arabian Airlines, was founded in 1945 and received its first plane as a gift from US President Franklin Roosevelt.

At that time, foreigners were entering the Kingdom, especially through Jeddah on the Red Sea coast, and Jeddah is the "gate to Mecca", and a major point of arrival for millions of Muslims who perform the rituals of Hajj and Umrah every year.

Foreign embassies did not move to Riyadh, in central Saudi Arabia, until the eighties.

These days, Riyadh is at the heart of Prince Mohammed bin Salman's comprehensive reform agenda as part of Vision 2030, his economic and social reform project based on stopping the dependence of the world's largest exporter of crude oil on fossil fuels and opening up to social changes.

Officials say the aim is to rival Dubai, an important Gulf business hub, and they expect Riyadh's population of now eight million to rise to 15 or 20 million by 2030.

Last November, plans were announced for a new airport in Riyadh that is set to handle 120 million passengers annually by 2030, up from about 35 million today.

Saudi Finance Minister Mohammed Al-Jadaan told AFP that the expected growth makes the current model for Saudi Arabia, which has two main centers, Jeddah and Riyadh, insufficient.

"Jeddah alone needs an airline to focus on Hajj and Umrah, and therefore there is a need for an airline that focuses on Riyadh," Al-Jadaan said.

"There is a need to ensure that there is a suitable airport that welcomes people and an airline that is able to connect many of the destinations that investors need," he continued.

"The question about the rate of demand in this equation has not yet been settled, and the Saudis need to be completely confident in the outcome in order to proceed with the order to purchase large aircraft," said Robert Mogielnicki, a researcher at the Arab Gulf States Institute in Washington.

The location of the airports in the Middle East, which is convenient for flights to Europe, Asia and Africa, has contributed to their rise as major hubs.
Airports Council International predicts that the region's airports will see 1.1 billion passengers by 2040, compared to 405 million in 2019.

In addition to "Riyadh Aviation", Saudi Arabia will also launch "Neom Aviation", which will be based in the future city of the same name, to start operations in 2024.

Saudi Arabia's expansion strategy depends in part on taking advantage of its population of roughly 35 million, which officials see as a huge advantage over rivals in the United Arab Emirates and Qatar with much smaller populations.

Macheras said the Boeing order indicates that Riyadh Airlines' vision "appears to be long-haul oriented, consistent with its goals of being a transit hub airline." Regional competitors are watching these developments closely.

A source in Qatar Airways, who preferred not to be identified because he was not authorized to speak to the media, said, "Riyadh Airlines will certainly acquire a share of the market in the region and the Asian markets in particular." "We are ready to confront a very rich tycoon who is in the making," he added.

Perhaps Riyadh Air will be best served by its owner: the Saudi sovereign wealth fund, which Macheras said will "stake on what will inevitably be a very large initial stage of capital" ahead of the inaugural flights in early 2025.
"It is clear that Riyadh Airlines, although it is a latecomer to the sector, sees that there is a place for another company at the table, and wants to assure the rest of the world that Saudi Arabia is open for business," he said.
Tags