Sat 25 Mar 2023 10:33 am - Jerusalem Time
The Lebanese are struggling to buy food for the month of Ramadan amid a sharp rise in prices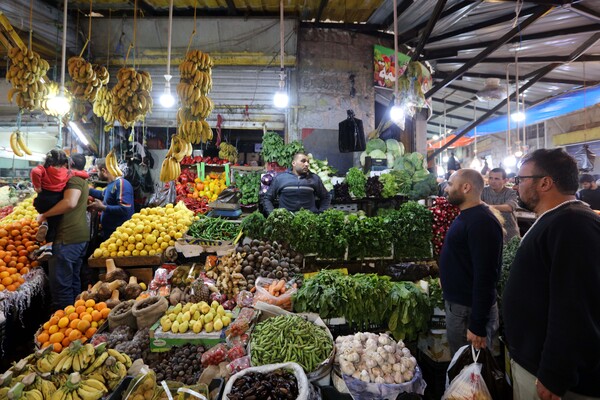 Housewife and mother of two, young Rana Rashidi, drags her shopping cart through a well-known department store in Beirut and through the aisles trying to shop for some essentials for the first few days of Ramadan.

Rana Al-Rashidi puts a small bundle of minced meat in her cart, a bag of rice, two bundles of pasta and a few other foods eaten during Ramadan, including Qamar Al-Din, an apricot dessert.

Rana Al-Rashidi recalls how she used to shop during the holy month of Ramadan before the economic crisis in Lebanon in 2019, telling Xinhua, "I used to fill my shopping cart with my needs throughout the month, from meat to chicken, fish, cheese and dates without worrying about prices. Today, we can hardly afford it." Buy some food."

During the month of Ramadan, the fasting people refrain from eating and drinking from dawn until the call to prayer, and break their fast with dates and water after sunset, where they gather in a warm family atmosphere around tables rich in various dishes, "but the sweet atmosphere of Ramadan differed this year and became somewhat bitter," according to The words of Rana Al-Rashidi.

In light of the conditions that forced many citizens to focus their purchases on essential commodities, Hasan Merhi, a teacher at a public school in Beirut and father of two children, told Xinhua, "This year, we removed many foods from our Ramadan menu, such as meat, fish, cheese and sweets. To save some money due to the insane prices of all basic materials."

"When I think about how our purchasing and consumption habits have changed, I feel depressed and sad," said Hassan Merhi.

For her part, Hanaa Seikaly told Xinhua that she planned to buy vegetables only twice a week to prepare traditional salads and fattoush or tabbouleh dishes for her family of five.

And she continued, "We must reduce and reduce expenses these days, otherwise our salaries will not be sufficient to secure food throughout the month of Ramadan."
She added that her and her husband's salary is 30 million Lebanese pounds ($272) and should also be enough to pay for the generator service, school fees and medicine.

A recent study to monitor the repercussions of Lebanon's crises, conducted by the "Crisis Observatory" at the American University of Beirut, reported that the average cost of dinner for one day in Ramadan for a family of 5 is 6 million Lebanese pounds ($54), which is equivalent to the average wage in the two public sectors. and private.

The Crisis Monitor also reported in the index of the cost of the daily Ramadan fattoush salad dish, which includes 13 items of vegetables, spices, olive oil and bread, that it amounts to 95 thousand Lebanese pounds per person, up from about 15 thousand Lebanese pounds in 2021, which indicates an increase in the price of the dish. per capita by 6.3 times, while wages in the public and private sectors increased only about 3 times.

The observatory's study indicated that the average monthly salary in Lebanon is equivalent to 5% of total spending if the costs of water, electricity, transportation, education, hospitalization, and clothing are added to the family's food needs.

Farah al-Shami, an activist with the Arab Reform Initiative, which includes a network of independent Arab research and policy institutes, said, "The Lebanese are adopting unhealthy methods to adapt to the continuation of the crisis by giving up at least one meal a day, with many relying on one meal throughout the day."

Farah Al-Shami told Xinhua that "people have dropped many food commodities from their menus and turned to cheaper commodities, usually of deficient nutritional value and of questionable quality."

"People sell property like jewellery, real estate, cars, furniture and clothes, and they work multiple jobs for long hours, while borrowing some money from relatives," she added.

Farah indicated that there are between 350,000 and 400,000 families that are able to withstand the difficulties, thanks to the transfers and aid they receive from the Lebanese working abroad, amounting to a total of about $7 billion annually.

Since 2019, Lebanon has been suffering an economic collapse, which the World Bank ranked among the worst in the world in 150 years, amid the collapse of the local currency, the decline in the value of wages, and the recording of a sharp rise in prices, which plunged more than 82% of the population into poverty, in parallel with the banks imposing harsh restrictions on withdrawing Deposits in foreign and local currencies.


Tags