Sat 23 Sep 2023 2:35 pm - Jerusalem Time
Israel UN envoy: Saudi Arabia normalization will isolate Palestinians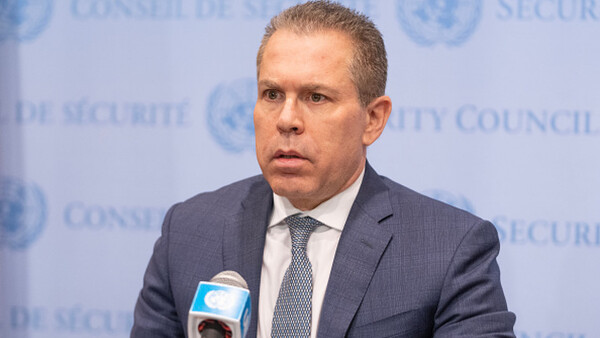 A normalization agreement between Israel and Saudi Arabia will isolate the Palestinians, Israel's United Nations envoy said on Friday.
Gilad Erdan spoke to Israel's Kan public broadcaster on Friday regarding the concessions Israel's far-right ruling coalition could make to secure a deal with then Saudis.
Erdan recalled Netanyahu's agreement in 2020 to delay plans to annex Palestinian territory in the West Bank until 2024 to secure a normalization deal with the United Arab Emirates.
The Israeli envoy said that a similar concession is "all the more so possible when talking about a peace deal that ends the Arab-Israeli conflict, except for the Palestinians."
"[This] will isolate the Palestinians and leave them alone by themselves. Under these circumstances, I'm confident that the ministers of the government will know how to make the right consideration," he said.
Erdan said that the Palestinian Authority has worked against a Saudi-Israeli normalization deal because of this.
The ambassador's remarks follow remarks from the leaders of Israel and Saudi Arabia this week indicating progress towards an agreement.
Although open to the prospect of normalization with Israel, Saudi Arabia has placed a number of conditions on any deal.
These include a defensive security pact that opens access to further US weaponry, as well as support in developing a civilian nuclear program which would allow Riyadh to enrich uranium.
Riyadh has also conditioned any deal on the formation of an independent Palestinian state.
At the UN on Friday, Israeli Prime Minister Benjamin Netanyahu said that his country was "at the cusp" of agreeing a deal with Riyadh.
Kan reported that after the speech, a number of ministers from the premier's Likud Party sent messages indicating that they are not ready to accept concessions relating to the West Bank.
Separately on Friday, Israel's Channel 13 reported that a number of coalition members from the far-right Religious Zionism and Jewish Power parties have threatened consequences for making concessions to the Palestinians.
Quoting sources close to Netanyahu, the broadcaster reported that Israel will make good faith gestures to the Palestinians, but they will not come at the expense of settlements or Israeli control over Area C of the West Bank.
Tags