Wed 22 Mar 2023 2:51 pm - Jerusalem Time
Bank of Jordan announces the winner of the grand prize for savings account holders in Palestine, with a value of half a million shekels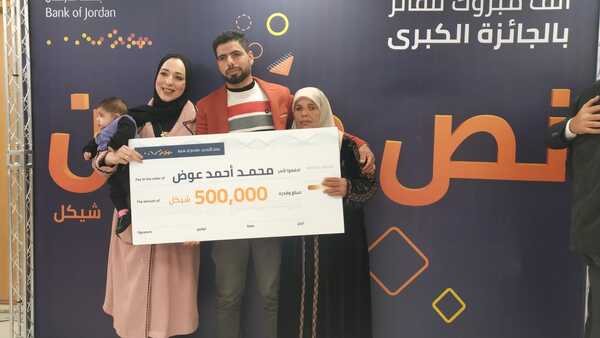 Bank of Jordan announced the winner of the grand prize for savings account holders in Palestine, amounting to half a million shekels, and he is Mr. Muhammad Ahmad Awad Ghannam from the Jenin branch.

In a distinguished festive atmosphere, Bank of Jordan presented a pleasant surprise to the winner Ghannam and his family, in the presence of the Regional Director of Bank of Jordan - Palestine Region, Mr. Saif Issa, a number of legal and civil society personalities, and a group of bank managers and employees, in addition to a distinguished presence from various media and influencers social media sites.

Mr. Issa confirmed that Bank of Jordan is always keen to reward its customers who save with it, with special cash prizes, within a long history of huge savings account campaigns in Palestine.

Mr. Saif Issa told Al-Quds.com, on the sidelines of the award announcement, "The award constitutes one of the most important means that the bank provides to citizens to provide means for savings, commensurate with the nature of Palestinian society, which desires to have means of saving, especially for its children and family." It is also part of the bank's strategy in Palestine to meet the needs of the local market, hence the importance of this award."

Issa confirmed that Bank of Jordan will announce in the near future a new program that includes higher and larger prizes, expressing his hope that this program will meet the needs and aspirations of the people in Palestine.

For his part, the winner, Ghannam, expressed his great joy at the award, and his deep thanks to Bank of Jordan for this surprise, stressing that the award will be a major reason for a better future for him and his family.


Tags