Thu 21 Sep 2023 8:14 am - Jerusalem Time
President Abbas meets Secretary-General of the United Nations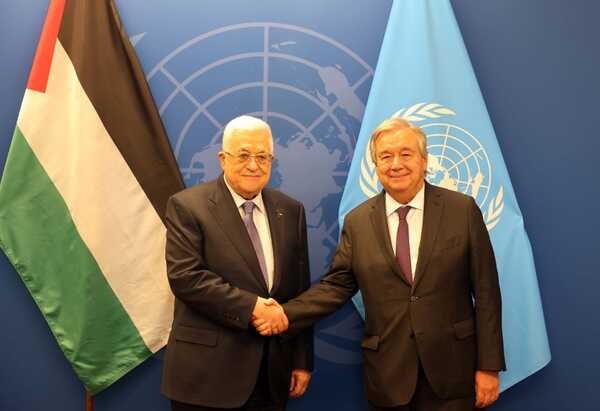 Today, Thursday, the President of the State of Palestine, Mahmoud Abbas, met with the Secretary-General of the United Nations, Antonio Guterres, on the sidelines of his participation in the 78th session of the United Nations General Assembly, in New York.
President Abbas briefed the Secretary-General on the latest developments in the situation in the Palestinian Territory, and what the Palestinian people are exposed to, in light of the continued Israeli escalation against their land and Islamic and Christian sanctities.
He reiterated the need for the United Nations to fulfill its duties towards the Palestinian people by providing international protection and implementing international legitimacy resolutions, and the need to oblige Israel to all agreements signed with the Palestine Liberation Organization, and to stop unilateral measures.
In turn, Guterres expressed his hope that the Palestinian issue will be resolved and the Palestinian people will obtain their full legitimate rights, including that the State of Palestine will become a full member of the United Nations before the end of his second term as Secretary-General of the United Nations.
He confirmed that he will visit Palestine at the end of next October and will coordinate the details of the visit with the Palestinian authorities.
He indicated that he would chair a meeting tomorrow to mobilize financial support for UNRWA, and he considered it a priority in his duties as Secretary-General.
In turn, the President welcomed what he heard from the Secretary-General of the United Nations about his keenness for the State of Palestine to obtain its full membership and the full legitimate rights of the Palestinian people.
He added that this indicates the Secretary-General's sincere conviction about the Palestinian issue based on international law, welcoming his visit to the State of Palestine.
Tags