Mon 29 May 2023 10:08 am - Jerusalem Time
From Putin to Biden.. Congratulations continue to Erdogan after his re-election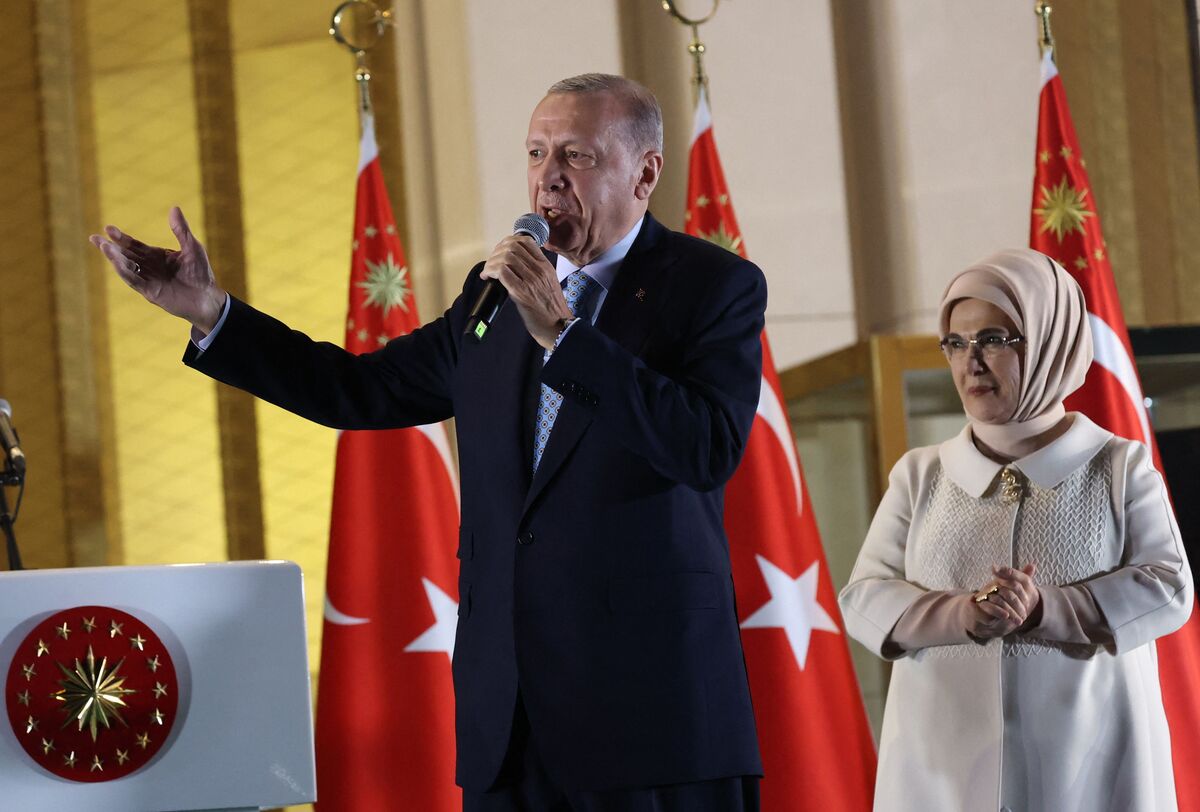 From Russian President Vladimir Putin to the American Joe Biden, passing through the Ukrainian Volodymyr Zelensky and the French Emmanuel Macron, many world leaders congratulated Recep Tayyip Erdogan on his victory Sunday for a new five-year presidential term.

Putin, who has recently worked closely with his Turkish counterpart, considered Erdogan's victory "the logical result of your selfless work as President of the Turkish Republic," adding that the victory "is clear evidence of the Turkish people's support for your efforts."

The Russian president also referred in particular to the "efforts" made by Erdogan "in strengthening state sovereignty and pursuing an independent foreign policy."

Turkey, a member of the North Atlantic Treaty Organization (NATO), has influence in strategic areas important to Moscow, and it also plays a mediating role in the Ukrainian conflict.

US President Joe Biden Sunday congratulated Turkish President Recep Tayyip Erdogan on his re-election, and said via Twitter, "I look forward to continuing to work together as NATO allies on bilateral issues and common global challenges."

In turn, US Secretary of State Anthony Blinken extended his congratulations to Erdogan via Twitter, saying, "I look forward to continuing our work with the government chosen by the Turkish people."

British Prime Minister Rishi Sunak affirmed his desire to continue "close cooperation" with Turkey.

"I congratulate (President Erdogan). I look forward to continuing the close cooperation between our two countries, from growing trade to addressing security threats as NATO allies," Sunak said on Twitter.

Emmanuel Macron was one of the first European leaders to congratulate Erdogan, saying that France and Turkey faced "enormous challenges that they face together".

Among these "challenges," Macron pointed out via Twitter, "the return of peace in Europe and the future of our Euro-Atlantic and Mediterranean alliance," adding, "With President Erdogan, whom I congratulate, we will continue to move forward."

Ukrainian President Volodymyr Zelensky congratulated Erdogan and expressed his hope to "strengthen" relations between Kiev and Ankara, in particular to ensure "security" in Europe.

"We hope to further strengthen the strategic partnership for the benefit of our two countries, as well as strengthen our cooperation for the security and stability of Europe," Zelensky said on Twitter.

Turkey played a crucial role in concluding and extending the agreement that allows Ukraine to export its grain through the Black Sea.

German Chancellor Olaf Scholz said he hoped Recep Tayyip Erdogan's re-election would give "new impetus" to relations between the two countries in order to "advance their common agenda".

In his tweet, he described the two countries as "close partners and allies," noting "the strong interdependence between their peoples and economies."

Swedish Prime Minister Ulf Kristersson welcomed Erdogan's re-election, saying that "our common security is a priority for the future."

Sweden is a candidate to join NATO, but it faces rejection from Turkey, which accuses it of harboring "terrorists", especially members of the Kurdistan Workers' Party.

European Commission President Ursula von der Leyen and European Council President Charles Michel expressed via Twitter their desire to "further develop EU-Turkey relations".

Turkey is an official candidate to join the European Union, but accession negotiations that began in 2005 have been stalled for several years.

Relations are complex between the European Union and Turkey, but the latter remains an essential partner for the bloc, especially with regard to immigration.
NATO Secretary General Jens Stoltenberg congratulated Erdogan, and said in a tweet, "I look forward to continuing our work and preparing for the NATO Summit in Vilnius in July."

In a statement published by the Saudi Press Agency, Saudi Crown Prince Mohammed bin Salman sent "sincere congratulations and best wishes for success" to Recep Tayyip Erdogan and the Turkish people.

Relations between Riyadh and Ankara deteriorated for more than three years after the assassination of Saudi journalist Jamal Khashoggi in his country's consulate in Istanbul at the end of 2018. Erdogan then accused "the highest levels of the Saudi government" of issuing the assassination order, and the Turkish judiciary's suspension of the trial on the case last year paved the way for a rapprochement between the two powers. biregional.
Tags