Sun 01 Oct 2023 6:30 pm - Jerusalem Time
Netanyahu lifts the ban.. Gallant meets Austin in Washington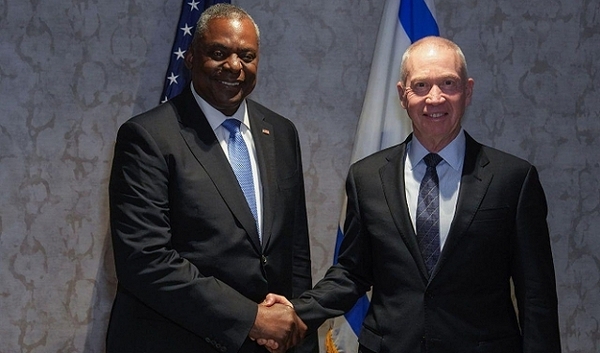 The office of Israeli Defense Minister Yoav Galant announced on Sunday evening that he had accepted an official invitation sent to him by his American counterpart, Lloyd Austin, to visit Washington and hold a meeting between them.
Gallant's office said that the meeting, which will take place this month, will discuss bilateral relations and their strengthening at various levels, in addition to issues related to the security and political situation in the region.
Israeli Army Radio said that the Iranian file, along with the file of the ongoing talks with Saudi Arabia to normalize relations, will be at the core of the talks, especially with regard to the position of the Israeli security establishment on the security side and the civil nuclear file.
Thus, Israeli Prime Minister Benjamin Netanyahu lifted the ban on his ministers' visits to Washington to meet with senior officials in the country, following the failure of his meeting with US President Joe Biden, before he met for the first time since he became prime minister, on the sidelines of the United Nations General Assembly meetings.
The radio said that this is the first meeting between Gallant and Austin in Washington, as they met in Israel and Belgium, and that it is not a coincidence that it comes a week after Biden and Netanyahu met.
Tags