Sun 01 Oct 2023 6:00 pm - Jerusalem Time
Israeli Forces Assault Palestinian Journalists, Worshipers in Jerusalem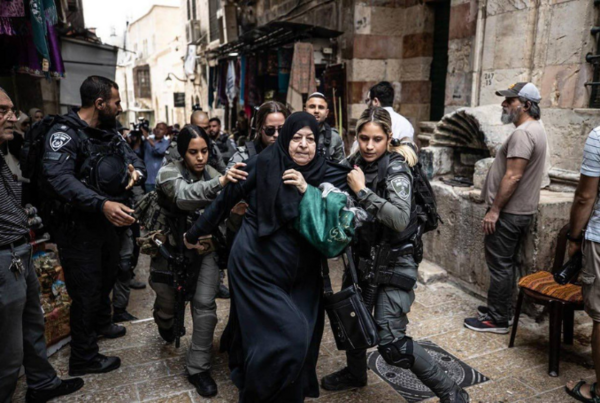 Israeli occupation forces assaulted Palestinian journalists and worshipers on Sunday, as hundreds of Israeli Jewish settlers forced their way into Al-Aqsa Mosque complex, in occupied East Jerusalem, to celebrate the Jewish holiday of Sukkot. Sukkot is a week-long holiday, which started on September 29 and will continue until October 6.
In a statement, the Jordan-run Islamic Waqf Department said Israeli forces closed the Al-Mughrabi Gate, southwest of the Al-Aqsa Mosque, "after allowing 602 Jewish extremists" into the site.
According to witnesses, Israeli Jewish settlers entered the site in groups. The Palestinian Jerusalem Governorate published a video on its Facebook account of Jewish settlers trying to enter animal sacrifices inside the complex.
Israeli police began allowing the settler incursions into the Al-Aqsa Mosque complex in 2003, despite repeated condemnations from Palestinians.
Al-Aqsa Mosque is the world's third-holiest site for Muslims. Israel occupied East Jerusalem, where Al-Aqsa is located, during the 1967 Arab-Israeli War. It annexed the entire city in 1980, a move never recognized by the international community.
Tags