Sun 01 Oct 2023 12:20 pm - Jerusalem Time
Iran may be last stop for Saudi-Israel normalization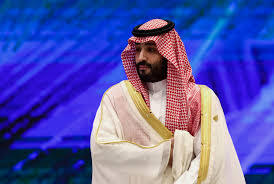 Last week Saudi Crown Prince and Prime Minister Mohammad bin Salman Al Saud, known as MBS, told Fox News that "everyday we get closer" to normalizing ties with Israel, but it ultimately depends on a breakthrough with the Palestinians. Left mostly unsaid is that a full peace with Israel probably also depends on a breakthrough with Iran, above and beyond the China-brokered Iran-Saudi rapprochement achieved earlier this year. Analysis of Al Monitor.
First stop: Ramallah
Let's start with the Palestinian issue. Last week, in the first such visit by a Saudi official since at least 1967, Saudi ambassador to Palestine and consul general to the city of Jerusalem Nayef bin Bandar al-Sudairi visited Ramallah and reaffirmed the Saudi commitment to a Palestinian state, as reported by Daoud Kuttab in his must read Al-Monitor Palestine Newsletter. The visit comes during a flurry of diplomacy among Washington, Riyadh, and Ramallah. Working closely with the Biden administration, MBS has offered to resume aid to Palestinian President Mahmoud Abbas, if the Palestinian Authority (PA) can crack down on radical armed groups in the West Bank.
The PA, in return, is willing to go along with normalization if Israel gives up control in some West Bank towns and dismantles settlements. These are all the right moves, reflecting a welcome sense of urgency about the deteriorating situation for Palestinians in the West Bank and Gaza. The potential Saudi lifeline comes as Abbas is initiating a makeover of Palestinian leaders to integrate a younger generation, but his unpopularity remains as high as ever. It may be too little, too late for Abbas's increasingly slim hold on the West Bank, especially Nablus and Jenin, the new centers of resistance.
The demand for the PA to crack down on the radicalized armed groups would come with a cost, given its lack of confidence with many Palestinians.
Next stop: Tel Aviv
And that brings us to Israel, where any baby step toward a two-state solution seems likely to hit a dead end. Ben Caspit writes today that "the required Israeli concessions to the Palestinians are a non-starter for many members of [Israeli Prime Minister Benjamin] Netanyahu's multiparty coalition, who have been demanding and also carrying out unilateral measures to bury once and for all any prospect of an independent Palestinian state."
The only workaround, as Caspit explains, is if the Saudi demand falls short of Palestinian statehood, or if Benny Gantz, the former defense minister and current head of the National Unity opposition party, can somehow be lured into a revamped Israeli coalition government. The former would be a letdown, given the expectations to date, including numerous Saudi statements, and the latter a near miracle, if Washington could pull it off.
Last Stop: Tehran
The Saudi approach to normalization has always come with a hedge because of Iran. Riyadh's asks of the US — support for its nuclear program, a defense treaty, and the very top weapons systems — are all geared toward Iran. Let's start with the Saudi nuclear program. Last week, Riyadh announced that it would give the International Atomic Energy Agency (IAEA) wider access to its facilities, as Jack Dutton reports, a boost to its bid for American nuclear support.
The Saudi steps still fall short of the IAEA's additional protocol — which, combined with the kingdom's desire for its own uranium enrichment capability, would make congressional approval of a Saudi nuclear deal difficult. Riyadh wants to do its nuclear deal with the United States, but is ready to take its business elsewhere, including perhaps China, if necessary.Riyadh's bid for nuclear power, including its own uranium enrichment, is not just about developing a new alternative energy source. Iran is at the core of the Saudi calculus. If Iran gets the bomb, then Saudi Arabia would have to get one, MBS told Fox News. The implication is also that if Iran has its "right to enrich," and will not adhere to the additional protocol, then Saudi Arabia should not be held to a different standard. MBS also has to assess what level of US security guarantees is enough, if relations go south with Iran.
The sophisticated Iranian drone attack on Aramco two years ago, in September 2021, couldn't help but reset Saudi calculations. The Donald Trump administration did nothing, despite a longstanding US policy, known as the Carter Doctrine, to use military force, if necessary, to defend its national interests in the region.
The prospect of Saudi Arabia as a "major non-NATO ally" would be a step up, but probably not the commitment envisaged in Riyadh. Iran's missile and drone capabilities, already formidable, are soon to expand. In October, the parties to the Joint Comprehensive Plan of Action (JCPOA), will meet around "transition day," when sanctions on Iran's import and export of missile and drone technology will be lifted, assuming none of the JCPOA parties (most likely the UK) institute snapback sanctions. The US and Saudi Arabia conducted a joint counter-drone military drill earlier this month, as Jared Szuba reports.
Iran is now embracing the rapprochement with Saudi Arabia in its media and policy statements, but the kingdom wants more action to complement the words. The visit of Houthi leaders to Saudi Arabia last week was a major step in diplomacy to end the Yemen War, thanks to Tehran. Perhaps the most telling, and encouraging, sign for Saudi Arabia is that Iran's supreme leader, Ayatollah Ali Khamenei, will allow direct US-Iran nuclear talks, as Amwaj first reported.
The prospect of US-Iran talks could complement regional trends toward de-escalation. There is a major trust deficit among the parties; the confidence-building process will take time.Going Big The Biden administration is going big in the Middle East with Saudi-Israel normalization and some type of nuclear deal with Iran. After a scratchy start in its relations with Saudi Arabia, US President Joe Biden came to realize that going big — such as Israel-Saudi normalization, support for a two-state solution, ending the war in Yemen, and deterring Iran — requires a close partnership with the kingdom; there's no workaround.
Despite the clear urgency and traction toward normalization, the hurdles to a full peace between Israel and Saudi Arabia are vast, both in terms of the Palestinian issue, and the Saudi asks of the United States.
These are all conversations nonetheless worth having, as they move the region toward diplomacy and integration. If, and it's a big if, Netanyahu can do the needful with the Palestinians, the missing and final piece will be Iran. And in the end, MBS will weigh the guarantees from the US against the risks from the Iran in making the call on normalization.
Tags