Sat 30 Sep 2023 5:51 pm - Jerusalem Time
German Jewish leader expressed concern about "right-wing extremists with criminal records in Israeli cabinet."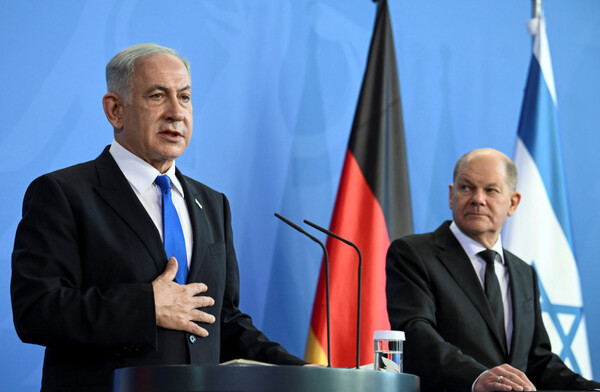 President of the Central Council of Jews: The 'problematic judicial reform is dividing Israeli society as the only democracy in the Middle East.'
As reported by Jerusalem Post, Germany's Jewish community leader called for a change of government in Israel in an exclusive interview with German outlet Web.de published on Friday, in a direct attack on Prime Minister Benjamin Netanyahu and his government's judicial reform.
President of the Central Council of Jews Josef Schuster, a vocal proponent of the government since its inception late last year, also expressed his concern about Israel's democracy as the "problematic judicial reform is dividing Israeli society as the only democracy in the Middle East.
"The broad protest movement in Israel speaks for a consolidated democratic understanding in the country," Schuster told Web.de.
Josef Schuster: We hope to see another election in Israel soon
Schuster joked about recent political crises in Israel, which involved holding five rounds of elections to the Knesset since 2019, saying that having repetitive elections is "not the most positive characteristic" of the state.
However, the German-Jewish leader noted, "in this case, I hope that we will experience a situation like this again soon and that a different coalition will then form the government."
According to Schuster, Jewish communities in the Diaspora are entitled to comment on internal political affairs in Israel as it is "relevant" to them.
"Israel is life insurance for Jews in the diaspora, and in Germany, this is particularly important in view of history," he explained. Criticism of Israel from abroad is legitimate, he said, adding: "I am not one of those who bash Israel."
Schuster called on those who criticize the judicial reform to refrain from bashing Israel, stating unequivocally that "Israel's right to exist 'should not be shaken.'"
Schuster's recent attacks on Netanyahu, Israeli government
The Central Council of Jews in Germany head was one of the first to publish Jewish figures to criticize Netanyahu's government, which he claimed was creating "provocations" and promoting nationalistic ideals in a January opinion piece penned for the Tagesspiegel news site.
"I reject many things in the new Israeli government," Schuster wrote, adding that "it will be necessary to continue to critically examine it and its work." He shared that he is uncomfortable with "right-wing extremists with criminal records [that have a seat] in the cabinet" or "making changes in the law so that corrupt politicians can become ministers." He said that this situation caused "a low point in Israeli political history."
Tags