Sun 24 Sep 2023 3:59 pm - Jerusalem Time
Media professionals and human rightists demand exposing Israeli targeting journalists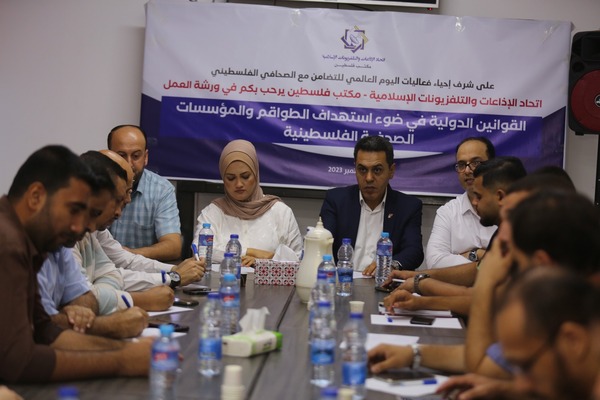 Palestinian media professionals and human rights defenders recommended today, Sunday, the necessity of translating and activating international laws protecting journalists on the ground in order to put an end to the series of targeting of Palestinian journalists.
During a workshop organized by the Islamic Radio and Television Union - Palestine Office - on the eve of commemorating the activities of the International Day of Solidarity with the Palestinian Journalist, entitled: "International Laws in Light of the Targeting of Palestinian Press Crews and Institutions," the international human rights and journalistic institutions called for the need for immediate and urgent intervention to stop the violations. Israeli forces against Palestinian journalists in the Gaza Strip, the occupied West Bank and Jerusalem, in a way that guarantees them the freedom of journalistic work approved by international legislation and laws.
The speakers called for the necessity of activating the role of official institutions in documenting the occupation's crimes against journalists and submitting them to international courts to hold the soldiers and leaders of the occupation accountable, especially since the international Geneva Convention and the Rome Statute confirmed that targeting media professionals during their work is a war crime punishable by international law.
They urged the necessity of activating a plan for Palestinian journalists to work with Arab and international journalistic institutions and bodies, and to provide them with awareness of the Israeli violations against them, demanding the necessity of forming a strong union body that includes all Palestinians without bias or discrimination in order to convey the voice of journalists to the world.
They unanimously agreed on the necessity of activating the official Palestinian position through embassies and institutions spread around the world, and taking immediate and urgent action in order to expose the crimes of the occupation against the Palestinian journalist, prosecute the killing, and prosecute them until they receive their punishment.
According to statistics from the Palestinian Journalists Support Committee, the Israeli occupation forces have committed 514 violations against journalists since the beginning of 2023, ranging from injuries, arrests, prevention of coverage, incitement, and harassment.
Tags