Sun 24 Sep 2023 1:39 pm - Jerusalem Time
Details of brutal arrest of two Palestinian prisoners, Hamdan and Bani Odeh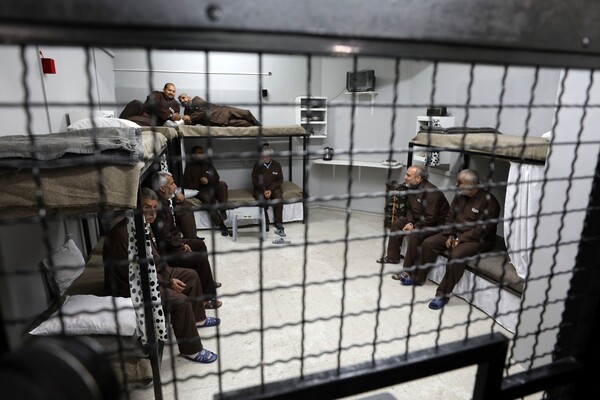 Today, Sunday, the Prisoners and Ex-Prisoners Affairs Commission, citing its lawyer Sherine Iraqi, monitored the arbitrary and brutal violations that prisoner Bassem Hamdan (44 years old) from the town of Tamoun was subjected to during his arrest by the Israeli occupation forces, as the Israeli occupation forces stormed his house at At four in the morning, they tied his hands behind his back and blindfolded him, then they severely beat him on his right foot with a sharp object, then they put him in the military jeep and beat him again, after which he was transferred to a camp and stayed there for 10 days, after which he was transferred to a crossing. "Megiddo" prison and then to "Gilboa" prison.
Prisoner Hamdan says: "I cannot pray unless I am sitting because I feel great pain in my legs, especially my right leg, and I also suffer from diabetes and blood fats."
While the prisoner Sameh Bani Odeh (23 years old) from the town of Tammoun was subjected to the same policy of arbitrary violations during his arrest and investigation, and the Commission's lawyer, Hanan Al-Khatib, reported what the prisoner Bani Odeh was exposed to during his arrest, as the Israeli occupation forces raided his house and arrested him, and tied his hands. To the back and blindfolded him, then he was transferred to the "Al-Jalama" Detention and Investigation Center, where he stayed for 40 days, and then he was transferred to the bird rooms. The prisoner Bani Odeh says: "During the period of interrogation with me, I was threatened with the arrest of my family, and they actually arrested my brother Sami. They threatened to keep me in the cells for a long period of time. My hands were tied behind my back and the shackles were attached to the chair, which caused me severe pain. The cell was narrow and lacked the most basic necessities of life. It had no windows, and the light in it was annoying and had rough, protruding walls that were difficult to lean on. The mattress was very thin, without a file and without... Pillow".
The Commission says: The prisoner Bani Odeh was transferred to the "Megiddo" detention crossing, where the conditions at the crossing are very bad, in terms of food, food supplies, bedding, and scarce clothes, and there is not a sufficient "canteen," while a portion of the detainees sleep on the floor, and the prisoner suffered. Bani Odeh suffered from severe pain in his chest while he was at the "Megiddo" prison crossing, where he was vomiting blood. After that, he was transferred to "Haemek" Hospital in Afula. They conducted medical examinations on him, and it was found that his blood level had reached a level of 4. He underwent He underwent a catheterization and gastric endoscopy. He remained in the hospital for 5 days and was then returned to "Megiddo" detention center.
Tags