Thu 21 Sep 2023 8:03 pm - Jerusalem Time
Abdullah II of Jordan warns of consequences of transgressing Palestinians in any normalization agreement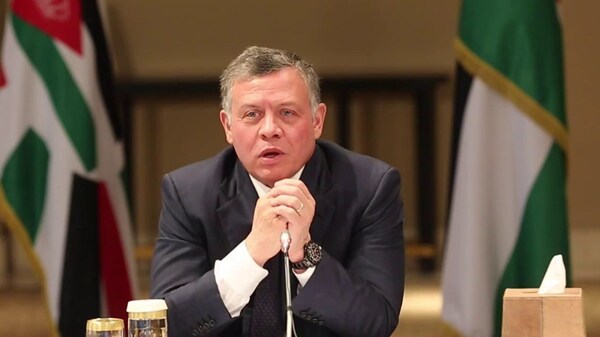 The Jordanian King, King Abdullah II, warned of the consequences of the Palestinians' succumbing to any potential normalization agreement between the Kingdom of Saudi Arabia and Israel, in an interview conducted with him by the head of the Al-Monitor Media Foundation, Andrew Paraceletti, in New York, on Wednesday, during the Middle East Global Summit, which was organized by the Foundation. "Al-Monitor."
The dialogue, which was also attended by Jordanian Queen Rania Al Abdullah and Jordanian Crown Prince Hussein bin Abdullah II, discussed developments in the Palestinian-Israeli conflict, and other issues such as Jordan's efforts to work towards peace and regional integration, in addition to the increasing pressures resulting from the Syrian refugee crisis.
In his response to a question about the possibility of moving forward with the peace process, King Abdullah II pointed out the need to focus on the issue of "the transition to a new Palestinian generation of leaders, where the Palestinians are heading, and where Israel is heading," wondering how we can reach an understanding about the political horizon. "?.
In response to a question about US efforts to achieve normalization between the Kingdom of Saudi Arabia and Israel, the king indicated that any such agreement might lead to a new horizon, but at the same time he warned against overstepping the Palestinians, stressing that "the challenge lies in the Israeli government and the belief among some that You can bypass Palestine and deal with the Arabs, and then turn to the Palestinians, and this is not possible, as there will be no real peace without a solution to the Palestinian issue."
The Jordanian king pointed out that there are requirements for the Kingdom of Saudi Arabia, Israel, and the United States, but "what the Palestinians will gain and what the region will gain from this matter must also be taken into account."
The Jordanian King pointed to the decline in international interest in the Syrian refugee issue and the significant decline in international support, warning that the refugee issue may return to "troubling us all" as a result of the instability in southern Syria.
Tags