Thu 21 Sep 2023 10:46 am - Jerusalem Time
Palestine participates in the 18th Ministerial Meeting of the Asian Cooperation Dialogue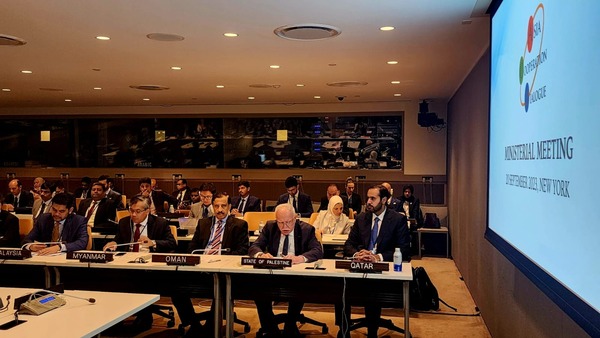 The State of Palestine participated in the 18th meeting of foreign ministers of member states of the Asian Cooperation Dialogue, which was held in New York on the sidelines of the 78th session of the United Nations General Assembly, entitled: "Sustainable recovery after the pandemic."
In his speech, Minister of Foreign Affairs and Expatriates Riyad Al-Maliki affirmed the commitment of the State of Palestine to achieving the goals and vision of the Asian Cooperation Dialogue, by enhancing dialogue and mutual understanding between Asian countries and nations, based on its belief in the strength of regional cooperation and its importance in confronting serious challenges and seizing opportunities for growth and development.
He reviewed the political and economic challenges that faced the Palestinian government in the stage of containing the epidemic and the stage after it, as it is a country that has been under Israeli military occupation for decades, and how it was able to mobilize all the required efforts to contain it and respond to its effects even though it is still suffering from its effects at all levels, including Development, economy, education, health, etc.
Al-Maliki presented the audience with a picture of the latest political and field developments in Palestine, and what the Palestinian people are facing in terms of a fierce, systematic, and unprecedented campaign targeting their land and the lives of their youth, women, and children, led by the most extreme right-wing government, which eliminates any hope for holding peace negotiations between the two parties.
He stressed that this coercive reality imposed on the State of Palestine will not be an obstacle to its efforts to achieve its rights to freedom, prosperity and self-determination, with the firm and principled support of member states and the support of the entire international community.
He stressed the fundamental and important role of the Asian Cooperation Dialogue in serving the interests and goals of countries and achieving them at the economic and political levels. He reaffirmed the State of Palestine's commitment to this dialogue and its values, and continued cooperation with all member states to continue achieving the goal of the dialogue based on forming an Asian unity capable of facing future challenges and obstacles. Despite the occupation's control over all aspects of life, wealth and resources.
Al-Maliki expressed his sincere gratitude to the Kingdom of Bahrain for arranging to hold this meeting and for its appreciated efforts made during its presidency of the Asian Cooperation Dialogue, congratulating the Republic of Iran on assuming the presidency of the dialogue.
At the conclusion of the meeting, the "Bahrain Declaration" document was adopted to promote the concept of sustainable recovery in healthcare after the Coronavirus (Covid-19) pandemic, exchange experiences and consolidate relations between member states.
Tags