Wed 06 Sep 2023 4:43 pm - Jerusalem Time
Agricultural Relief signed benefit agreements to establish water harvesting ponds in Gaza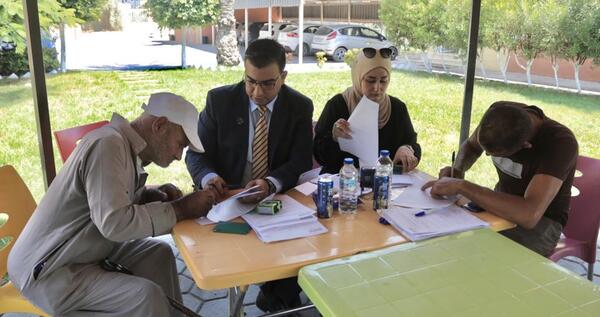 The Agricultural Development Association "Agricultural Relief" signed agreements to benefit 20 beneficiaries from the intervention of establishing water harvesting ponds "phase two", with the participation of community protection committees in the targeted areas, which are Al-Shawka, Mawasi, Khan Yunis, Khuza'a, Al-Zannah, and Al-Sarij.

This comes within the project "Enhancing the Resilience of Small Farmers and Communities Affected by Natural Hazards and Multifaceted Crises in the Gaza Strip" in partnership with the German Diakonie Foundation "DKH" and funded by the German Federal Ministry for Economic Cooperation and Development BMZ.

Agricultural Relief stated that this intervention aims to mitigate the effects of water scarcity, the depletion of the aquifer capacity, the deterioration of water quality, and the high percentage of salts and nitrates in it, especially in the most vulnerable southern communities.

Relief attaches great importance to water harvesting ponds, as they contribute to providing a fresh water source and increasing storage space by collecting rainwater in agricultural ponds, which reduces the percentage of withdrawal from the aquifer water, which increases productivity and profitability for farmers by reducing costs related to providing quantities of water. In addition to providing an opportunity for agricultural diversification by cultivating crops that they were not able to grow previously.

It is noteworthy that these interventions came in response to community plans that were previously prepared in marginalized areas and those least able to face disasters. With the aim of raising the state of readiness of farmers to respond and prepare for risks.
Tags