Mon 29 May 2023 10:17 pm - Jerusalem Time
UNIFIL: Stability is still fragile in the border area between Lebanon and Israel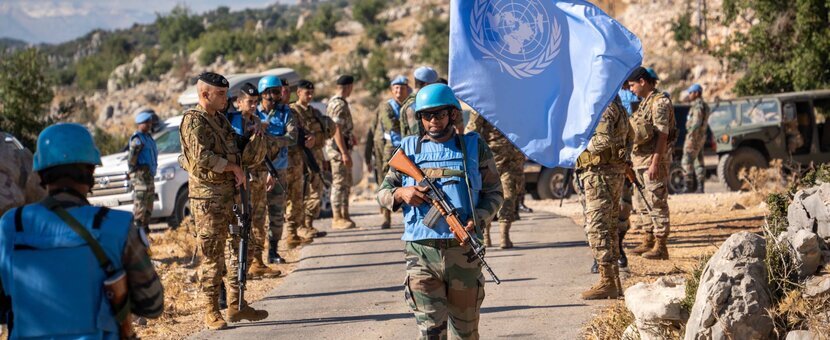 The commander of the United Nations forces operating in southern Lebanon (UNIFIL), Major General Aroldo Lazaro, said today (Monday) that stability in the border area between Lebanon and Israel is still fragile, pointing out that peacekeepers are helping to prevent the escalation and development of matters.

This came in a speech delivered by Major General Latharu during a ceremony held by UNIFIL at its headquarters in the border town of Naqoura in southern Lebanon on the occasion of the International Day of United Nations Peacekeepers and the 75th anniversary of United Nations peacekeeping operations, which falls today.

He said that more than two million people have served under the banner of the United Nations over 75 years of peacekeeping missions, and that during the 45 years since the establishment of UNIFIL, hundreds of thousands of soldiers have worked in southern Lebanon, noting their contributions, achievements and sacrifices.

"The role of the peacekeepers is to create a space to find a way for a political solution between the parties, reduce tensions and prevent conflict that may conflict with political solutions to conflicts," Major General Lazaro stressed.

"We depend on our partners in the government, civil society, religious authorities and the population to support us, and on our strong relations with the Lebanese army and security forces, with whom we work daily to maintain the calm and stability necessary for the success of our mandate," he added.

He stressed that "the events of the past month showed that this stability is still fragile, but thanks to the work of the peacekeepers, we were able to win the confidence and commitment of the parties, which facilitated the process of coordination and communication during the launch of the missiles, responding to them, and helping prevent the escalation of matters and their development into more."

Rockets were fired from southern Lebanon at northern Israel on April 6, without claiming responsibility from any party, while Israel responded by bombing open areas in the south.

It is noteworthy that UNIFIL has been operating in southern Lebanon since 1978 to monitor the withdrawal of Israeli forces from it. It was strengthened in 2006 under Security Council Resolution 1701, which put an end to the war launched by Israel on Lebanon in July of the same year.

According to its latest data, UNIFIL includes about 9,826 peacekeepers from 47 countries, and since its establishment, this force has lost 327 of its soldiers for the cause of peace in southern Lebanon.
Tags